It seems like the once enviable friendship between Afrobeats singer, Davido and talent manager, Ubi Franklin has come to an abrupt end.
Kemi Filani reports that the singer, who is still grieving the loss of his son, has unfollowed more people in Instagram.
Kemi Filani did a check and noticed that Ubi Franklin has been kicked off Davido's following list.
The singer, at the time of reporting is currently following 1,748 and Ubi Franklin isn't among.
This is coming just few days after, Ubi Franklin got his first tattoo in honor of Ifeanyi Adeleke
The music executive took to his Instagram stories to share a picture of the tattoo with Ifeanyi Adeleke's nickname 'Popsicles', and a dove bird which signifies 'Rest in Peace'. Sharing it, he indicated Ifeanyi's death date.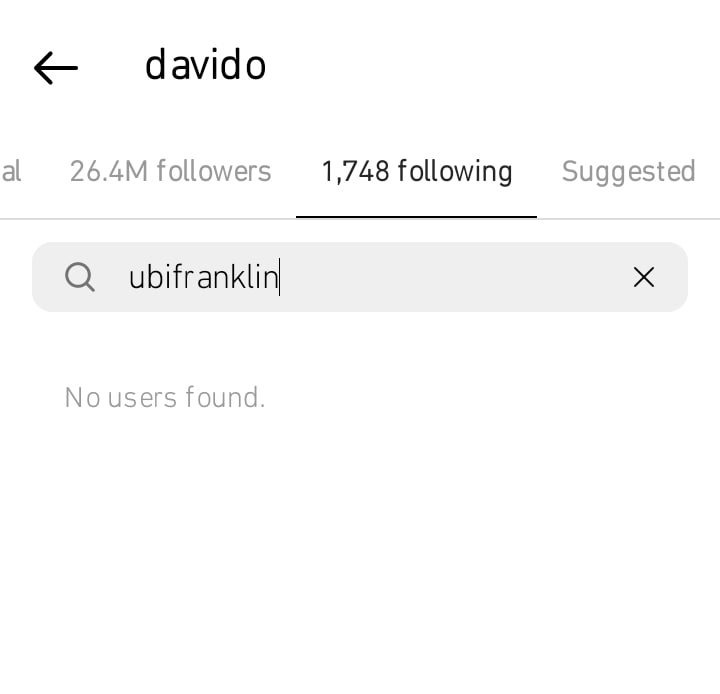 Social media are expected are having a field day reacting to the shocking news.
While others mocked Ubi Franklin, others blamed his tattooing of Ifeanyi as the cause of their supposed rift.
One Gift Eduju wrote, "Ubi sef too do. A grown man like that always behaving like a boiboi. How can they value him?
One Maame Fremahh wrote, "So what about the tattoo will he clean it
Expressing concern for Davido, one Emmynyu wrote, "Depression is real. Please check in David. Detachment at times is being caused by depression. May God help David oohh
One Njide Kaah wrote, "Ha so what will happen to Ubi's tattoo
One Shanvee luxuries wrote, "It better be a joke. Well I think David is just going through so much this period…the people around him should try and understand
One Jenny Lawrence wrote, "E dey carry Ubi go where e nor know ooo after all the busybody
One Issa beauty shop wrote, "Na from that tattoo I know say Ubi is trying too hard for validation".
Ubi Franklin isn't the only one from Davido's friend list that has been cut off.