A viral video of a young lady tending to her mentally deranged boyfriend has melted hearts online,
The trending video showed the lady visiting her boyfriend, who was in tattered clothes, with food and feeding it to him.The lady who shared the video on her TikTok page said they swore to stay by each other through thick and thin until death.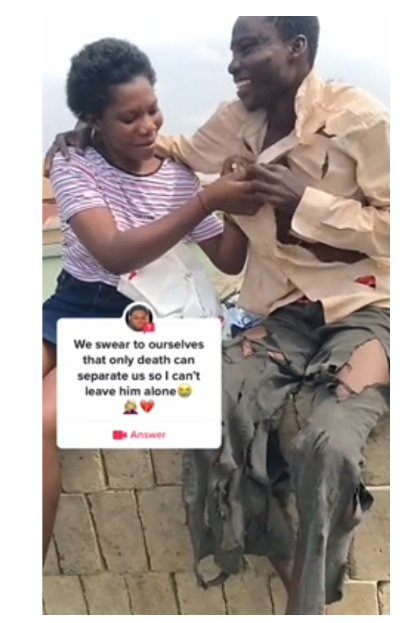 She promised to never leave him, regardless of his situation.
"We swear to ourselves that only death can separate us so I can't leave him alone. No matter your situation I still love you." She wrote.
Social media reactions:
One ahuofesolomon wrote: God blessed you nobody will do what you deeded even if it's an still God blessed you this show's the love you have for your friends
One maxwellamakye308 wrote: may our God bless u n give you all your heart desires
One user3732215229581 wrote: Ok Good Girl you got a new one and you have
One ghacemtirport222 wrote: but i always see real luv in movies n videos whyyyyhhhhhh