Libya, was captured and killed on 20 October 2011 after the Battle of Sirte. Gaddafi was found west of Sirte after his convoys were attacked by NATO aircraft. He was then captured by National Transitional Council (NTC) forces and was killed shortly afterwards.The killing of Gaddafi was criticized as a violation of international law.
The belated finale for Muammar Gaddafi began on a marble slab in a car park and ended with a lonely burial in the desert far from the reach of family or foe.
After his body spent five days on gruesome display, Libya's new rulers finally decided late on Monday night to put Gaddafi to rest, capping a week of uncertainty about what to do with the slain president remains and closing an era of fear and infamy.
A National Transitional Council (NTC) official told the BBC the bodies were buried at dawn in an unknown location.
This follows days of apparent uncertainty among the new leadership about what to do with the bodies.
Gaddafi's family wanted them buried outside the former leader's hometown of Sirte.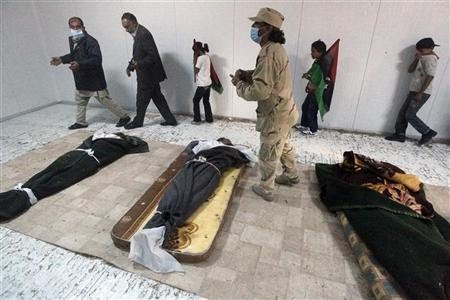 Libyan families visit the body of slain Libyan leader Muammar Gaddafi (C) inside a storage freezer in Misrata October 24, 2011. Libyans filed past Muammar Gaddafi's decomposing body for a fourth day on Monday, keen to see for themselves that the fallen strongman was dead, while talks dragged on among emerging local factions over disposing of the corpse.