The rate at which Nigerian celebrities have been getting scammed is terrifying. Adding to the list is Nollywood actress, Ruth Kadiri who took to her Instagram page to cry out.
The movie star had done a business transaction with a body shaper and waist trainer brand but didn't get her goods delivered and all her efforts to reach them proved abortive.
Noting how the economy is hard, Ruth begged the brand to either refund her money or deliver the products.
She stated that her messages hadn't been responded to and lamented over how trust is hard to earn these days.
"Pls help me beg them to deliver my product or refund me o! Economy is hard o! Jesu!
No responding to my messages anymore!!!!
Trust is hard these days o".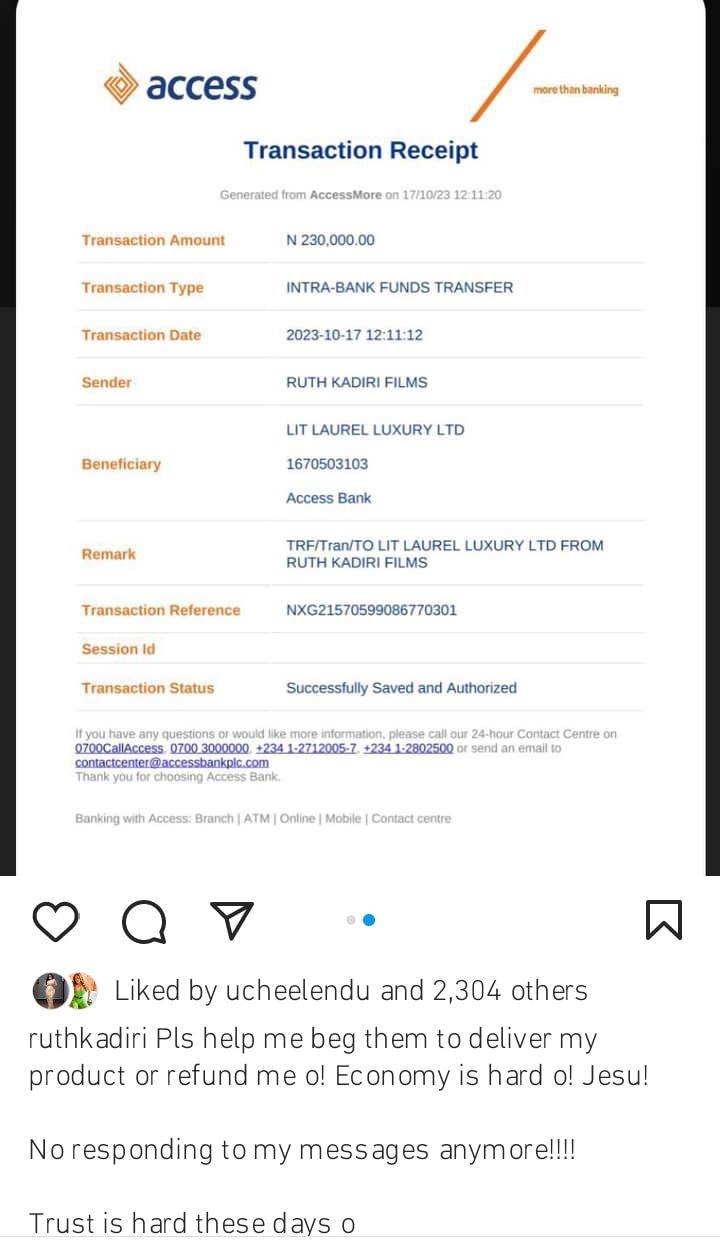 Taking to her comment section, some of her colleagues like Uche Elendu lamented over how she fell into a similar incident but had to drag them before getting a refund.
Uche Elendu wrote, "This people's scam is on another level. That's how I dragged them until they refunded my client's money. Get your money first babe
One Official Passy Kpaduwa wrote, "Imagine scamming a celebrity, people get mind oh
One Ada Sylva wrote, "Go to the bank and recall the money and also write a complaint
One Official Mirabel Etuk wrote, "Most of these online stores are fraudulent I can't even count the number of online stores that have defrauded me, making it difficult to trust the real ones. Mtchewwwwww
One Marvelous Tyna wrote, "If they can do this to a celebrity, how much more an ordinary person? Patronize them at your expense
One Glow By Mo Organics Skincare Palace wrote, "There is something called integrity. Imagine a celebrity shopping from you and you mess up the opportunity
Ruth Kadiri is one of the many celebrities who have cried out about being scammed.
Weeks back, Nkechi Blessing Sunday had blown out after getting scammed by an Igbo man.
Blessing shared a post on Instagram, revealing the trouble she experienced with an online vendor who happened to be an Igbo man.
She claimed that the online vendor, who scammed her was sending her several death threats and heavy curses since they had vital information about her.
The news of Ruth Kadiri being scammed is coming just a few days after the mother of two, recovered her Range Rover autobiography which was allegedly stolen by one of her workers.
The light-skinned movie star narrated the incident that led to the car being stolen and how she was able to recover it with the aid of businessman, Ned Nwoko, disc jockey Dorcas Fapson, auto dealer, IVD, and others, she was able to recover her car.