Yoruba Actress Olaide Ayodeji has revealed that she is currently in urgent search of a man because she is tired of living as a single lady.
She took to the comments section of Tunde Edunt to advertise herself as she asked men to please slide into her DM that she is available for any kind of man if he can prove his source of income to her.
Netizen reacted the comments as many jokingly ask if they can be one and she responded by asking them to send DM.
Her Post Captioned: Am already at this stage baba God help me cause this single life isn't for weak emi awon woli gba mi please please and please slide into my DM if your handsome,single,doing ok,God fearing,don't worry am all of the things am looking for and more @mufasatundeednut help me an tired of this single life walahi 😭😭🙏
See Picture Below;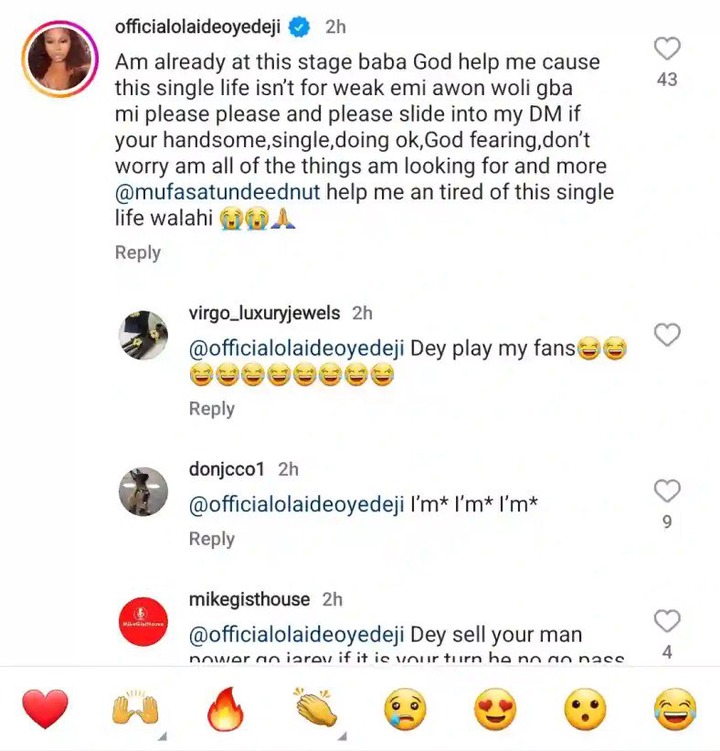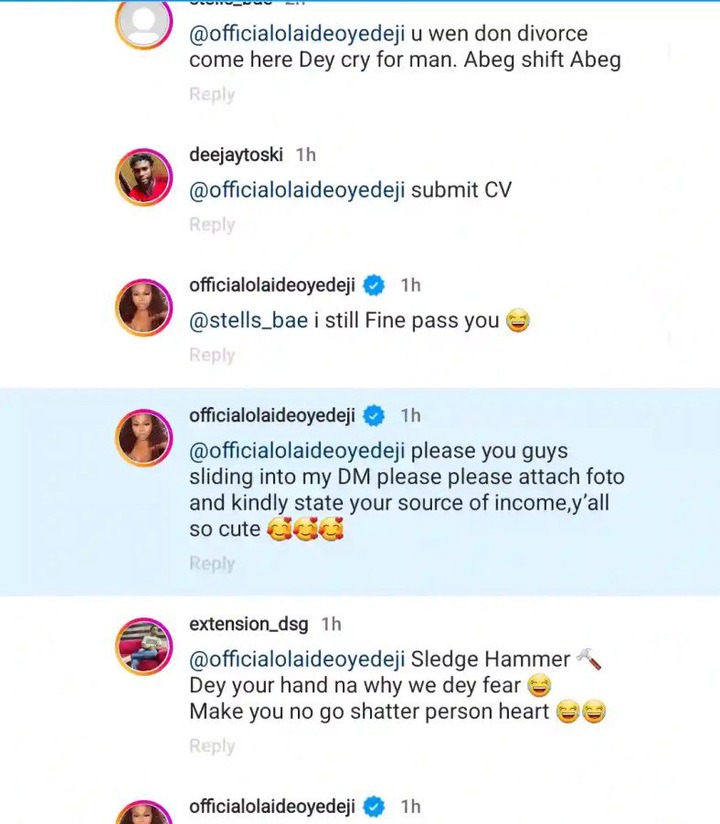 See Social Media Reaction Below:
Mikegisthouse: @officialolaideoyedeji Dey sell your man power go jarey if it is your turn he no go pass you by
Chikafi: @officialolaideoyedeji must d man be handsome? Add every other things, remove handsome u go see man ❤️
Callme_burg: @officialolaideoyedeji men this days are scared of women ooh, include me 😂. But no worry God go give you 🙏
Officialolaideayodeji: @officialolaideoyedeji please you guys sliding into my DM please please attach foto and kindly state your source of income,y'all so cute 🥰🥰🥰
Extension.dsg: @officialolaideoyedeji Sledge Hammer 🔨 Dey your hand na why we dey fear 😂
Make you no go shatter person heart 😂😂
Elijah_oluwani: @officialolaideoyedeji God will see we singles through😂😂😂 Emi sha wa available, mo de handsome niwonba ti agbara mi ka☺☺