Alisson Becker, Liverpool's shot-stopper, took to his Instagram account to celebrate his daughter Helena who turned 6 years old on Saturday, April 29, 2023.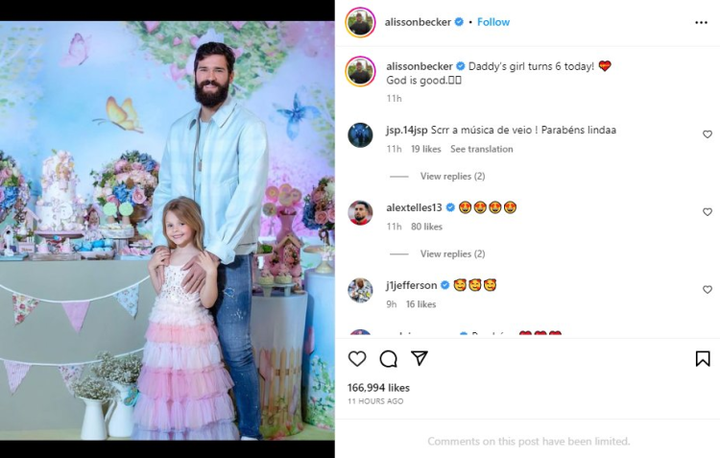 In the image, one can see Alisson putting on a white jacket and blue jeans while Helena wore a pink and white gown.
The background of the image shows cakes, flowers, and a typical environment for a young celebrant.
Alisson hails from a footballing family as his father and grandfather were both amateur goalkeepers.
Alisson was an understudy to his older brother Muriel at Internacional as well.
The said brother is still an active professional goalkeeper and stars for Cypriot Club AEL Limassol.
One can really confirm that goalkeeping runs in their family.
Alisson started his professional journey at the age of 10 in 2002 and made his senior debut in the year 2013.
Becker was formally AS Roma's backup keeper to brother Muriel and finished his first season with six appearances.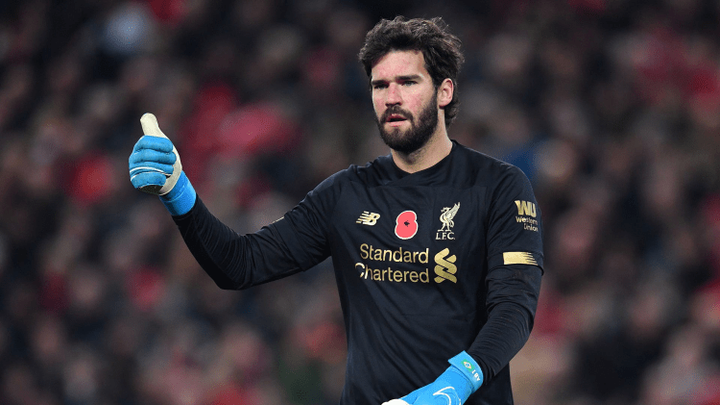 Alisson faced competition with Brazilian legend Dida, who was at that time playing for Internacional where Alisson was trying to establish himself as the number one.
Alisson Becker
Alisson Becker is a footballer who was born on October 2, 1992, and currently plays as a goalkeeper for Liverpool FC and the Brazilian national team. He was born in Novo Hamburgo, Brazil.
He was born in Novo Hamburgo, Brazil where he began his professional career with Internacional in Brazil.
Alisson won Campeonato Gaucho in 2014 and 2015, and the Recopa Sudamericana in 2016, before moving to Roma in 2016.
His good performances at AS Roma established him as one of the best goalkeepers in Serie A, helping Roma to reach the Champions League semifinals in 2018.
He later signed for Liverpool in 2018, becoming the most expensive goalkeeper in history at the time, with a transfer fee of £66.8 million.
With Liverpool in his first season, he was a crucial part of the team as he helped the Reds win their sixth Champions League.
The following season, he helped the team win their first Premier League title in 30 years.
He made his debut for Brazil in 2015 and established himself as the national team's first-choice goalkeeper.
Alisson Becker played a key role in Brazil's victory in the 2019 and 2021 editions of Copa America, keeping five and four clean sheets in the tournaments respectively.
Natalia Loewe
Natalia was born on December 28 1990, in Italy but we currently have nothing much about her family aside from Alisson.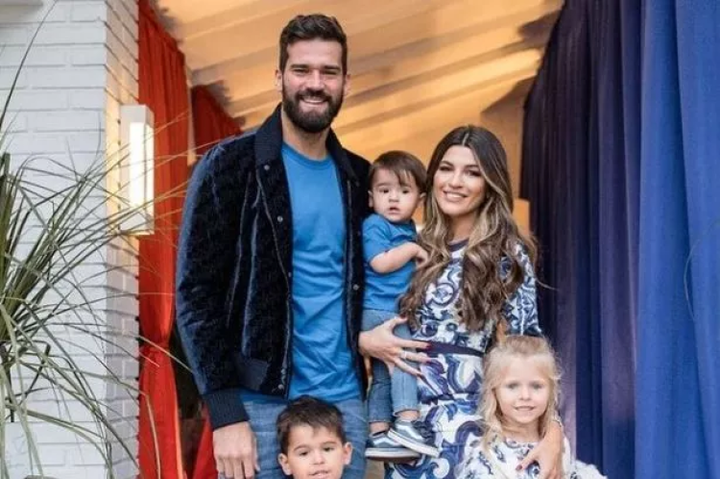 Natália is a well-known Doctor with a degree as a Physician which she acquired from The Catholic University of Pelotas in Brazil.
Her degree did not make so famous, she became famous just because the wife of Alisson Becker.
Alisson Becker and Natalia Loewe
Alisson and Natália Loewe decided to settle down 3 years after they started dating.
The couple have 3 kids – Helena born on 29th April 2017, and two sons.
The eldest son Matteo was born on 14th June 2019 and the second son on 10th May 2021.
Alisson Becker's Net Worth
Alisson Becker's current net worth stands at 20 million pounds.
His current market value is at 50 million pounds and he is ranked number 78 among all players worldwide.
Alisson Becker currently earns 150.000,00 pounds per week.