Cristiano Ronaldo's ex-girlfriend has accused his current partner, Georgina Rodriguez of going under the knife to look like Kim Kardashian.
Nereida Gallardo, 39, dated the football star for eight months in 2008 and now runs her own beauty salon in the Balearic Islands.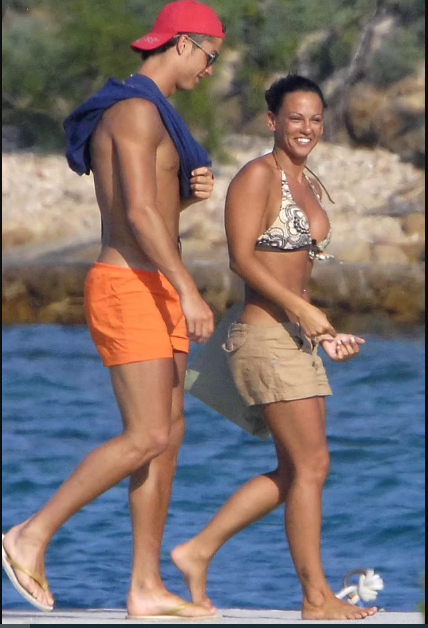 Nereida Gallardo with Ronaldo
Earlier this month, the small business owner used her ex-boyfriend's new partner as an example of a celebrity who could have gone under the knife.
Last week, Nereida posted an old, undated photo of Georgina and a newer selfie the WAG had taken to demonstrate how her appearance has changed.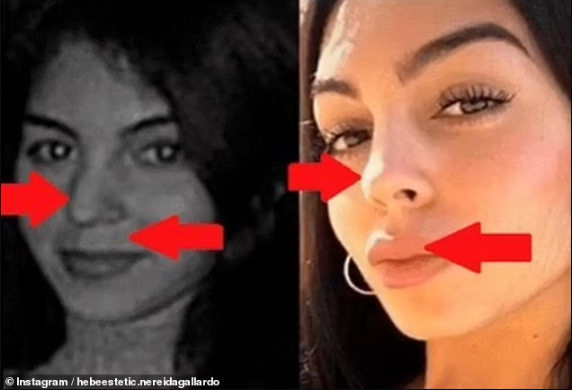 After adding red arrows pointing to the mother's nose and mouth, she wrote: 'Today we're going to talk about Rhinoplasty or Rhinomodelation.'
She then went on to explain the difference between the two, saying one involved surgery and the other non-invasive techniques to get 'the nose you've always dreamed of'.
Urging her followers to book themselves in for an appointment, she added: 'Which procedure would you prefer?'
In her latest post, which was uploaded yesterday, Nereida took another swipe at Georgina when she posted two more photos of the WAG compared to Kim Kardashian.
Inviting her followers to comment on how both women's appearances have changed over the years, she wrote: 'Georgina Rodriguez is increasingly similar to Kim Kardashian, what do you think?!
'IMPRESSIVE TRANSFORMATION OF BOTH.'
One fan replied: 'You're awful!' Cristiano's ex said in response: 'Not at all girl- but don't they look like each other!'
Another added: 'I thought the same thing! What's more, now they even comb their hair the same! But Georgina's curves are not the Kardashian's.'
Following his split from Nereida, Ronaldo went on to date supermodel Irina Shayk – who his aesthetician ex described as 'tall, graceful and really beautiful'.
In 2017, Ronaldo met his now-girlfriend Georgina Rodriquez, and the couple share daughters Alana and Bella.