Chelsea's new signing Cucurella made his debut yesterday in their 1-0 victory over Everton at Goodison Park as they claimed their first win of the season. However, here are the three things he did that got fans talking:
1. His Superb Cross To Sterling
He came on in the 75th minute to replace Koulibaly and almost got an instant assist as he delivered a lovely cross to Sterling but the winger's effort was deflected wide.
Photo credit: Getty Images
The Spaniard remained sharp as he helped Chelsea maintain the lead to the end.
2. He Gave The Free Kick To Reece James in An Attempt To Beat The Racism Allegations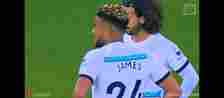 Photo Credit: Getty Images
The new signing did an amazing thing when Chelsea won a free kick at the edge of Everton's 18-yard-box. He gave Reece James the free kick to take just to beat his racism allegations involving Real Madrid Miliatao and his act was well appreciated by Chelsea fans who kept chanting his name.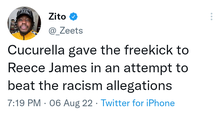 3. His 15 accurate passes
He only played the remaining 20 minutes of the game and had 15 accurate passes at a rate of 89% which looks amazing. Although, he received a yellow card for kicking the ball away towards the end of the game.