Jose Mourinho is a football Manager and one of the Greatest Managers of all time. He started his managerial career in top Football level in 2000 where he managed Benfica.
After some years he moved to Porto where he won the Champions League with them. In 2004, he moved to Chelsea at the beginning of the Roman Abramovich era. He was in Chelsea till 2008.
He won Chelsea's first League Title and also won a lot of Trophies
He moved to Inter Milan in 2008. He spent 2 Seasons at inter Milan and he also won the Treble. He went to Real Madrid in 2010 and then returned to Chelsea, then Manchester United before he was appointed by Tottenham.
Currently, he is the Manager of Seria A side, AS Roma.
Jose Mourinho has managed a lot of top football Players in his Career so far. Also he has been a source of Motivation to many Players.
Despite it being competitive, Jose Mourinho has chosen his best starting eleven among all the Players he has managed so far.
Among the Teams he managed, his best eleven Players came from 3 teams namely, Chelsea, Inter Milan and Real Madrid. Chelsea Players dominated the starting eleven. 8 players came from Chelsea, 2 Players from Real Madrid and 1 Player from Inter Milan.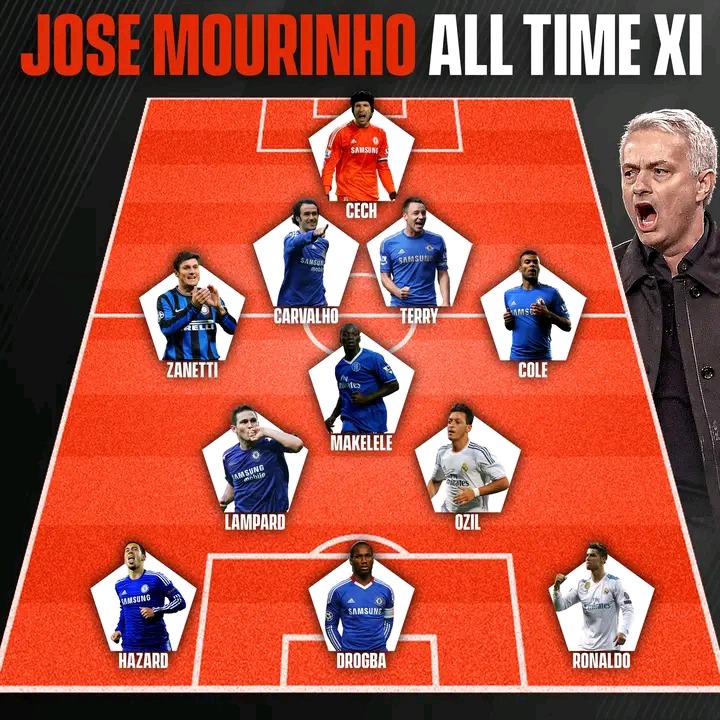 Formation: 4:3:3
Goalkeeper: Cech (Chelsea)
Defender: Carvalho (Chelsea)
Defender: Terry (Chelsea)
Right Back: Zanetti (Inter Milan)
Left Back: Ashley Cole (Chelsea)
Defensive Midfielder: Makelele (Chelsea)
Central Midfielder: Lampard (Chelsea)
Attacking Midfielder: Ozil (Real Madrid)
Left Winger: Cristiano Ronaldo (Real Madrid)
Right Winger: Hazard (Chelsea)
Striker: Drogba (Chelsea)