President Muhammadu Buhari is being singled out for blame by Nigerians for the Super Eagles' shock defeat to Tunisia in the second round of the ongoing African Cup of Nations, AFCON, in Cameroon.
After the Super Eagles breezed through the group stage with a perfect record of three wins from three matches, the Nigerian senior men's national football team quickly became one of the favourites to win the tournament and darlings with fans back home.
But coming up against a COVID-19 ravaged Tunisian team on Sunday, the Super Eagles came up short as they lost narrowly by a lone goal.
Nigerians, who are popular for their love for football, quickly started making their voice heard on who is to blame for the defeat and the name on the lips of most Nigerian fans is the name of President Buhari.
Why Buhari?
Earlier on Sunday, President Buhari was widely reported to have spoken with the Nigerian squad via video call, something he did not do when the team played in the group stage.
During the call, President Buhari said, "You've been doing Nigeria proud. You've been winning. Please keep on winning. The Federal Government is supporting you, and I say thank you to all the technical crew and the players.. Please keep doing the country proud."
Responding, Coach Augustine Eguavoen assured President Buhari that his team would not let the nation down.
However, hours later when the Super Eagles filled out against the Carthage Eagles of Tunisia, they didn't do enough to get the win required to stay in the competition.
Reacting, some Nigerians on social media said the president ought not to have called the Eagles.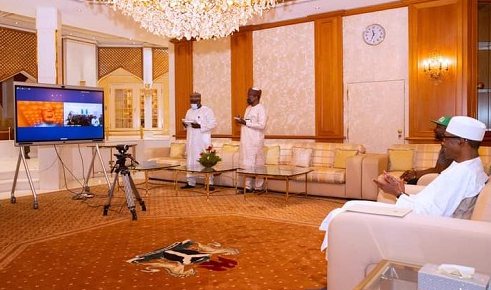 On Facebook, one Comrd Babangida Bukari, wrote: "Buhari Buhari Buhari, why do you call them?"
Hussaini Abdulkarim Maikudi, also a Facebook user, said, "Since when I heard buhari had a video call with super eagle, I know there success has come to an end."
Idowu Olawale, said, "Dove refused to fly at eagles square as bubu threw them up, Bubu called super Eagles and the next match eagles refused to fly."
Yakubu Umar, wrote "Just one call from this guy and everything came crashing down."
On Twitter, one Amarachukwu, wrote: "Dear Lord, I refused to pick any call that will cause my downfall Folded hands #Nigeriavstunisia.
Tweeting via @timiPR, another user, said, "May we not receive any call that will truncate our destiny."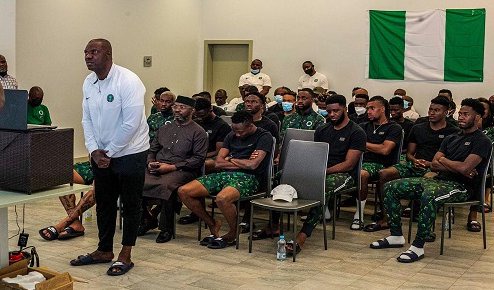 Waxing comical in pidgin English, Violence AspicPrince wrote, "Immediately Buhari called those boys, I know say wahala don dey #Nigeriavstunisia."
Popular rap artiste and Davido signee, Dremo, simply tweeted, "Buhari why now."
Ace disc jockey turned activist, DJ Switch, tweeted, "Buhari you just use f, f spoil our game. Buhari to super eagles: go and make us froud. Now we don pail."(sic)
While also airing her opinion, delectable Nollywood actress Beverly Naya also blamed the president's call for the Super Eagles loss. She tweeted, "It will always end in tears with the Eagles. Buhari even called, forgerrabout winning!"(sic)
Taking to his verified Twitter account, a former aide to ex-president Goodluck Jonathan, Reno Omokri, emphasised that misfortune befell the Super Eagles the moment the President made the video call.
According to Omokri, Buhari has negative energy which he transferred to the players following the video call he earlier made to the team on Sunday.
He tweeted, ""Buhari is the reason Tunisia defeated Nigeria so disastrously. Iwobi red card, Iheanacho yellow card. All the time they have been playing this never happened. Why is it that it is the day they spoke to Buhari that these series of unwelcome events rained on us! Energies are very contagious. Avoid negative people!"