Fulham midfielder Alex Iwobi once had his Arsenal payslip leaked online, showing his staggering earnings. 

Iwobi began his career at Arsenal as he graduated from the club's youth academy before breaking into the first-team.
He made his debut for the Gunners in October 2015 and eventually made 21 appearances in all competitions in the 2015/16 campaign.
Iwobi enjoyed his best Arsenal season in the 2018/19 campaign, having played 51 matches across all competitions, scoring six goals.
During that term, his payslip was leaked online, revealing his financial earnings for the month of January in 2019.
Two pieces of documents were shared online – his 'Match Bonuses' sheet and his 'AFC Monthly Players Payroll'.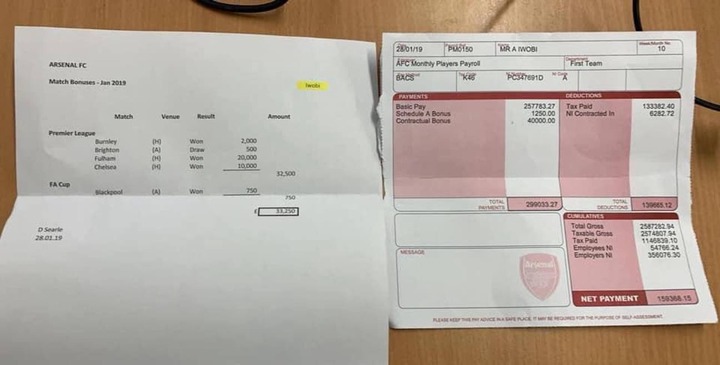 His payroll sheet revealed a monthly earning of £258,000, which works out at a weekly wage of around £60,000.
The leak also showed he earned a cool £33,250 in bonuses following Arsenal's victories over Burnley, Fulham and Chelsea in the Premier League and Blackpool in the FA Cup.
In the summer of 2019, Iwobi secured a transfer to Everton in a deal worth £34 million and was believed to be earning £70,000-per-week.
The Nigerian signed for Fulham during the summer transfer window.