Prominent Lagos State socialite and skincare entrepreneur, Farida, sent shockwaves through social media on Thursday with a suicide attempt on the Third Mainland Bridge, few days after her husband left her for his Side-chic.
The trending Gossip hotspot, Gistlover, dropped a bombshell in its most recent update, exposing that Demola, Farida's spouse, made a dramatic exit from their matrimonial abode, all for the purpose of reuniting with his Side-chic, Yemisi Fasawe, with whom he had been entangled even before tying the knot with Farida.
Gistlover's account details how, Farida's hubby left the marital home and unleashed a barrage of insults upon his wife, contending that her old-aged-body renders him unable to adequately attend to her needs in the bedroom.
The marriage of Farida came to an abrupt halt following her extensively publicized N100m wedding to Demola.
Gistlover wrote partly:
"Hello tueh tueh, Popular socialite and skincare vendor m, house of phreedah marriage crashes two months after their 100m wedding, make I carry una go through wetin cause fight,it will be in series as evidence plenty and can't be posted at once, we will touch every angle,let's go.
Meet the married woman Yemisi Fasawe that made Demola pack out of his wife house, according to information reaching our headquarters, Yemisi fasawe is a married woman and was Demola secret lover even before the wedding between Demola and farida.'
SEE GISTLOVER'S POST BELOW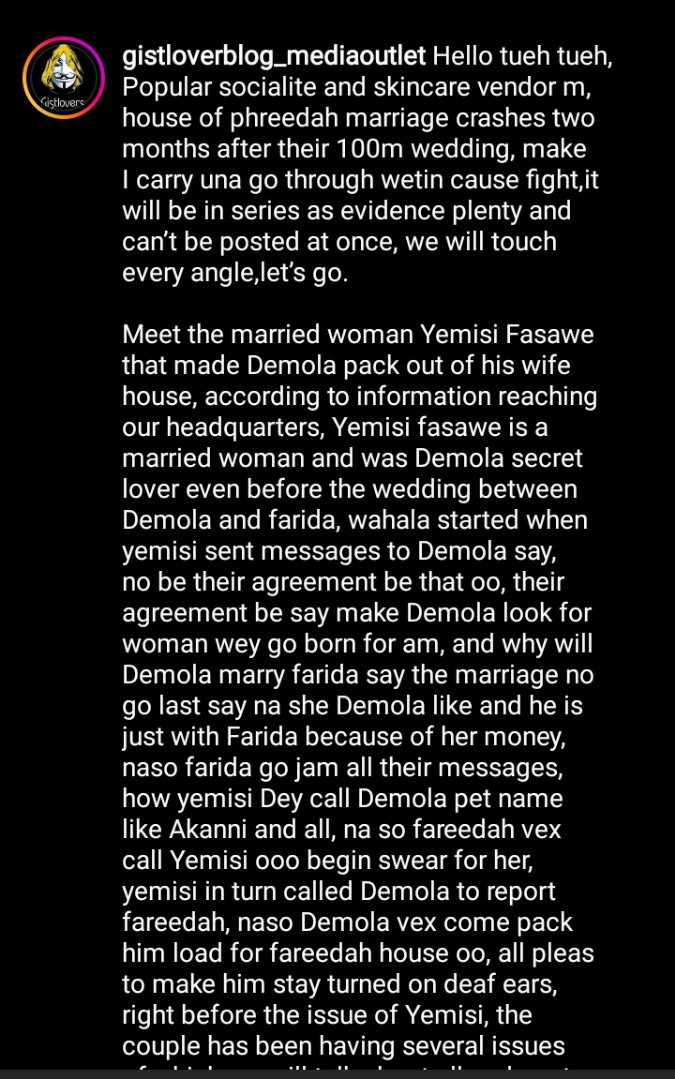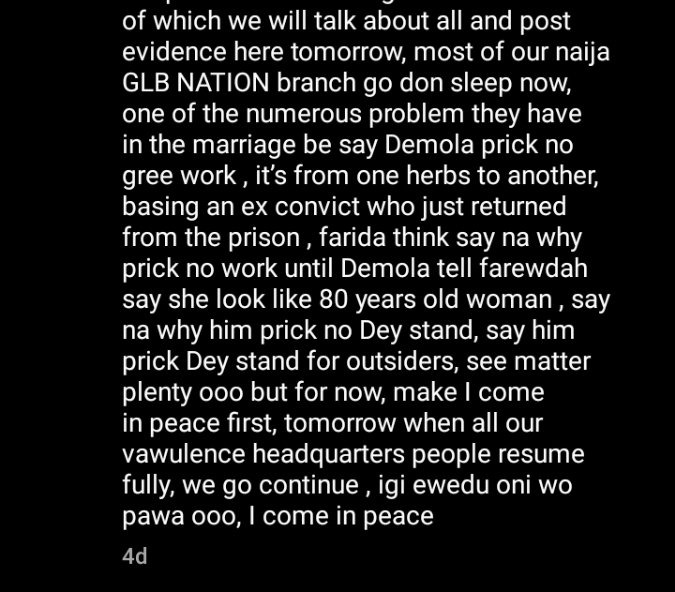 Amidst the accounts detailing the turmoil within her marriage, footage shared by Goldmyn TV depicts the instance when a group of individuals intervened to prevent Frida from attempting suicide on the Third Mainland Bridge.
Both commuters and drivers collaborated to guide her back to the safety of her vehicle, which she had parked on the bridge.
SEE VIDEO BELOW