An internet fraudster who was sentenced to five years imprisonment by a judge after his arraignment by the Economic and Financial Crimes Commission (EFCC) was discovered to have the sum of N120.284 million in his bank account following investigation by the anti graft agency.
The young man, whose name was given as Oghenemine Agbroko, was convicted by Justice Efe Ikponmwonba of Edo State High Court, Benin City, who sentenced him and four others to various terms of imprisonment while also ordering that the said money be forfeited by him.
(Caption): The convict, Agbroko, as posted by the EFCC on its Facebook wall.
According to available information on the Facebook wall of the anti graft commission, the money, which was found in the man's account with a new generation bank, was ordered to be forfeited to the Federal Government of Nigeria through the EFCC for onward delivery to the complainant, the US Federal Bureau of Investigation (FBI).
Agbroko was among five internet fraudster convicted and sentenced to various terms of imprisonment for fraud by the judge. The others were Kennedy Uwuigbe, Odiase Osariemen Christian, Collins Edobor and Ebichuwa Victory Ovie.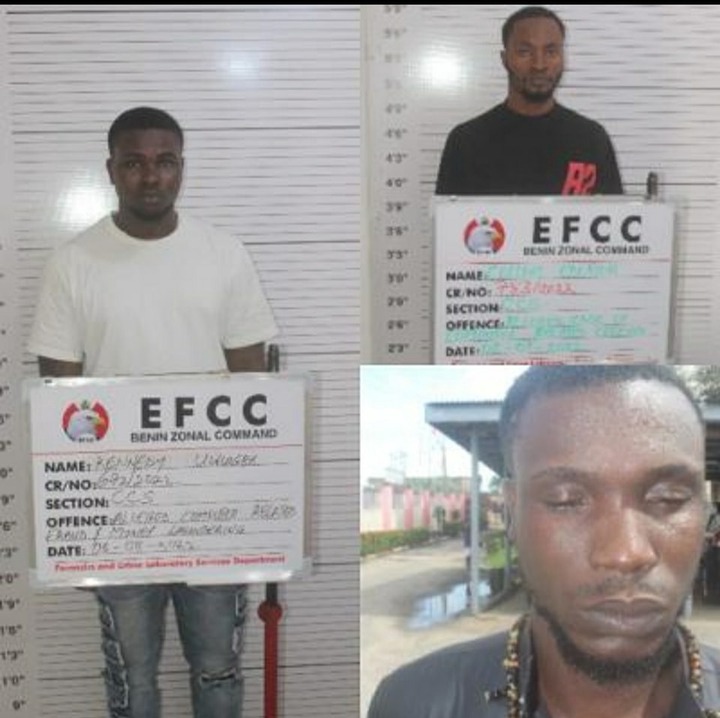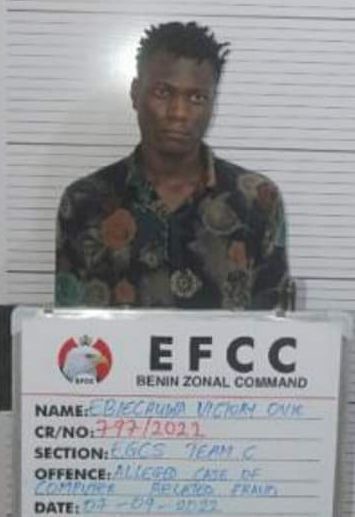 (Caption): The other convicted internet fraudsters.
They were arraigned separately on one count charge bordering on retention of proceeds of crime, impersonation and unlawful possession of fraudulent documents by the Benin Zonal Command of the EFCC.
According to the report, the charge against Agbroko read: "that you, Jeffrey Oghenemine Agbroko, in Edo State within the jurisdiction of this court did retain the sum of N120,284,986.28 in your bank account.
"You know that same represent proceeds of your criminal conduct to wit: cybercrime and thereby committed an offence contrary to and punishable under Section 17(b) of the Economic and Financial Crimes Commission (Establishment) Act 2004."
The report said after he and others pleaded guilty, the judge sentenced them while ordering that the N120.284 million be forfeited and the bank account where the money was found be closed. The other convicts also forfeited various sums of money and other items to the Federal Government.