Cristiano Ronaldo stormed down the Man Utd tunnel towards the end of the Red Devils' Premier League win over Tottenham.
Cristiano Ronaldo has been banished from the Manchester United senior squad by boss Erik ten Hag. The wantaway forward is understood to have refused to come on as a substitute during the Red Devils' Premier League win over Tottenhamon Wednesday, and departed Old Trafford before full-time.
Ronaldo has since been told to train away from his team-mates, with his United career seemingly drawing to a close. Express Sport analyses the 37-year-old's options over the coming weeks.
Find a buyer
But teams being able to meet his demands is a whole other issue. The likes of Atletico Madrid and Bayern Munich passed up opportunities to sign Ronaldo in the summer.
Clubs who definitely can afford to have Ronaldo include those from the likes of Saudi Arabia and MLS. it remains to be seen if he would be open to either challenge.
Join rival Lionel Messi
Could Ronaldo see out the remainder of his career alongside long-term rival Lionel Messi? A move to PSG was mooted before he joined United in the summer of 2021, and the Ligue 1 side could need a new forward if Kylian Mbappe or Neymar leave at the end of the season.
The only issue is that Messi could also depart PSG come next summer – with Barcelona hopeful of an emotional return when the Argentine's contract ends in June 2023.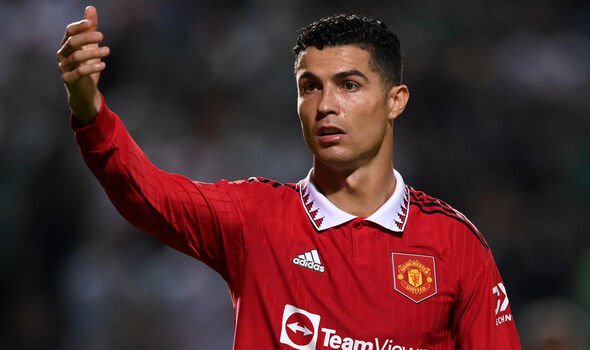 Terminate his own contract
It would come at heavy financial loss, but Ronaldo could request to have his contract terminated by United. That would allow him to seek a free transfer in January – which interested parties might be more open to.
It was widely reported that Ronaldo actually asked the Red Devils to do this in the summer when he was desperate to depart, but that was dismissed by the Old Trafford hierarchy. Club chiefs might now see it as one of few options given Ten Hag's strong treatment of the player.
U-turn and accept a lesser role under Ten Hag
Ronaldo showing a bit of humility seems unlikely after his outburst against Spurs – but he could still decide that his future remains in Manchester. The veteran attacker would need to accept that he will play a lesser role in Ten Hag's team, with several players being preferred by the United boss.