Goal scorers are the most celebrated figures in football; their records catalogued for eternity, the memories of their feats are cherished forever by fans.
When you score the goal it's like you come up for air and you can hear the crowd, the atmosphere, for that four or five seconds. It's a mad feeling, it's a feeling more of having a sex.
Many players have at one point or the other in the course of their career scored and felt that feeling
However, there exist some players who have never felt the that feeling maybe in their career or after transfer. Among this list is Liverpool Defender Joseph Gomez.
Joseph Gomez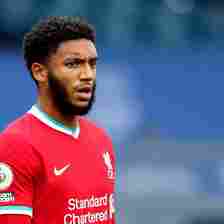 Joseph Dave Gomez is an English professional footballer who plays as a centre back for Premier League club Liverpool and the England national team.
Joseph Gomez joined Liverpool from Charlton in Summer of 2015, since then he has made 81 appearances for Liverpool. Gomez has never Scored any goal for Liverpool however he has offered assist 4 assists.