Gulder Ultimate Search returned last year September after 9 whole years of being off-air. Unfortunately, despite amazing production and top-notch marketing, the show didn't end up becoming the phenomenon that creators thought it would be. Viewership wasn't as high as anticipated and in the general discourse, the show was regarded as a 'flop'. Theories on why this was the case varied but one that caught the attention of blogs and the public was the accusation that the show wasn't as successful because influencer and businesswoman Toke Makinwa was slated as host.

During her new sit-down interview with Ikechukwu for his podcast Drinks With Killz, Toke Makinwa finally opened up about how those accusations affected her and what she had been going through at the time of the excessive trolling. Here's everything Toke said.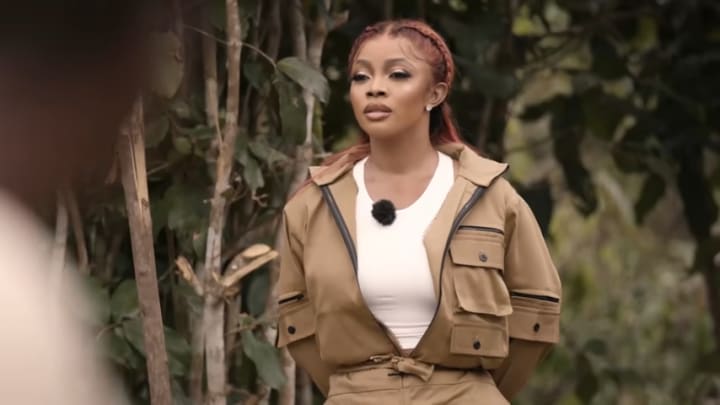 Speaking to Ikechukwu about being told that Gulder Ultimate Search flopped because of her, Toke Makinwa said:
Hosting Gulder Ultimate Search, Nigerians would drag me for everything. 'Oh the reason why the show is not popping is because she hosted it', that broke my heart. That broke my heart completely. Because while I was filming for this show, I lost my sister-in-law. I lost someone very close to me and she died when I got off the stage from Big Brother cuz I hosted the finale with Ebuka. Got off the stage from Big Brother to the news that she had passed. I had to be in Epe for Gulder Ultimate Search at 5am the next day. I couldn't go the morgue so I was waiting for my brother to get home. I didn't go to bed till 3:30 and at 5am in the morning, I woke up. I went to get the registry ready before I could leave and I still journeyed to Epe to film by 11 o'clock that day. You put in all of this and you now see people sit behind their homes and just trash it because they just feel like 'she's so Kim Kardashian' like', 'this is a show for athletes'. I'm like should I not have taken a chance? I mean, 8 years before getting the call, I remember working with Nigerian Breweries and I had to host the past winners of Gulder Ultimate Search, it was at a restaurant in V.I. This was like 8/9 years ago and I sat in that chair and said won't it be crazy if I get to host the show one days. The guys laughed, I laughed to and said 'let's just do the interview'. 9 years after, I get the call to be the host of Gulder Ultimate Search which is returning after nine years, and Nigerians did not give me my flowers. Week after week it was 'why is she wearing makeup in the jungle?', 'why is she doing this?', I'm like I'm the host of the show, I'm not a contestant. People don't know what you're going through behind the scenes and the reason I say this is that my mental health was really tested last year because this was in the middle of my own personal crisis. I had to wake up everyday to show up to work. Do you know what it feels like when you've cried yourself to bed and call time is 7am in the morning and you have no excuse because 1) you're a woman and even people working on this production might have their own reservations about wanting to work with a woman in the jungle. So you cannot make excuses. I was sick, I thought I had COVID, they were coming to treat me in my room, and I would still dress up and be at the place of the talking drum that night. Because you know what? The moment I say 'I can't come, I'm sick', it's 'we already said it, why couldn't we just get a man? This place is not conducive for women.' I was sick dealing with grief, my heart was breaking and I still had to show up to work. And then deal with the trolling. That I'm here, cheers to that.