A well known human rights activist, Adeyanju Deji has taken out his time to list his top four (4) PDP presidential candidates, ahead of the 2023 presidential election.
Adeyanju Deji is one man who always speaks out when there is a need for him to do so, without fear or favour.
The names of Adeyanju Deji's top four PDP presidential candidates are; former Vice President, Atiku Abubakar; Sokoto State governor, Aminu Tambuwal; Rivers State Governor, Nyesom Wike and Bauchi State governor, Bala Mohammed.
Speaking further, he made it known that the former Anambra State governor, Peter Obi won't contest, because he(Obi) knows that he doesn't stand any chance. He also reminded Nigerians that his prediction of last PDP primaries was 100% correct, making it known that he will make APC prediction soon.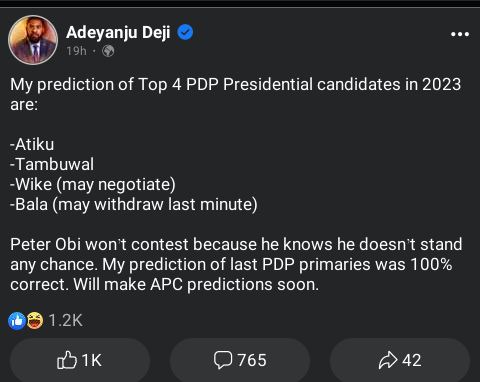 That's a good one from Adeyanju Deji. But we should know that no one knows what will happen tomorrow and we should also know that Nigerian politicians are unpredictable. But nevertheless, we have to wait patiently so as to see what will happen in the year 2023.