A video featuring a young lady pranking her mum, pretending to stay at her boyfriend's place for two days, has gone viral on social media.
The video offers a humorous glimpse into her interactions with her African mother.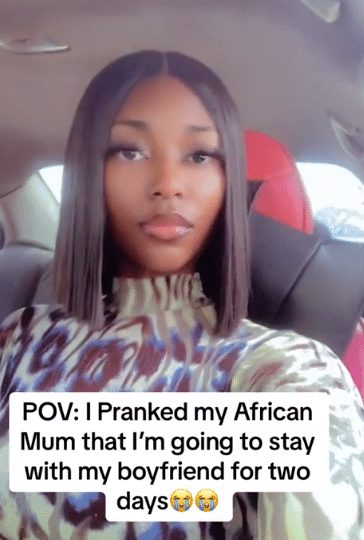 In the video, @favourr_r initiates the prank by sending a message to her mother, informing her that she won't be returning home as planned and will instead be staying with her boyfriend.
"POV: I Pranked my African Mum that I'm going to stay with my boyfriend for two days," the video caption read.
The prank message was met with a delightful and sarcastic response from her mother, who seemed to be in on the joke.
Her mum responded;
"I laugh, you are not at home. You just want to tell me that I will see you tomorrow or next tomorrow. Okay oh. Make it till next week or next month. I'm not even waiting for you. No problem, Alright oh."