More than 12 African countries have players plying their trades in La Liga this season. However, only two of these nations currently have more than five footballers registered to play in the Spanish top flight. Let us take a look at these countries.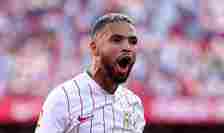 En-Nesyri (the Most Valuable Moroccan in La Liga)
These two nations are Morocco and Senegal. Six Moroccans are involved with La Liga for 2023/24. The most valuable among the sextet is Youssef En-Nesyri. This 26-year-old striker has banged in 3 goals for Sevilla this season with one of them coming from 2023 UEFA Super Cup. Youssef's market value of €20m is €5m greater than that of his compatriot, Abde Ezzalzouli. This left-winger has made 4 appearances for Real Betis. He is one of the two Moroccans current registered to play for Real Betis. The other is Chadi Riad Other La Liga footballers from the North African country this season are Munir El Haddadi, Selim Amallah and Abdel Abqar. The three men have turned up for Las Palmas, Valencia ave Deportibo Alaves respectively this season.
Senegal also have 6 football in the Spanish first tier this season. These include defenders Youssouf Sabaly and Momo Mbaye as well as midfielders Dion Lopy and Pathé Ciss. The others are Amath Ndiaye (a winger) and Famara Diédhiou (a striker). Two of these Senegalese footballers moved to La Mica this summer. These are Lopy and Diedhiou.
The other African countries that have notable presence in Spain are Ghana and Mali. In fact, the most valuable player from the continent is Iñaki Williams who is a Ghanaian.