Meta CEO, Mark Zuckerberg has countered billionaire businessman, Elon Musk, on details of their proposed fight he reeled out today, August 11.
Musk had said earlier that the fight will take place in "an epic location" in Italy. He also disclosed that all of the action will be live-streamed on X and Meta.
Zuckerberg unloaded his side of the story on Threads on Friday afternoon. He revealed that he still wants Dana White and the UFC involved in the planning process.
The Meta founder also made it clear that he hasn't agreed to any of those stipulations yet, adding "please assume anything [Musk] says has not been agreed on."
Zuckerberg also wrote;
"Not holding my breath for Elon, but I'll share details on my next fight when I'm ready. When I compete, I want to do it in a way that puts a spotlight on the elite athletes at the top of the game. You do that by working with professional orgs like the UFC or ONE to pull this off well and create a great card."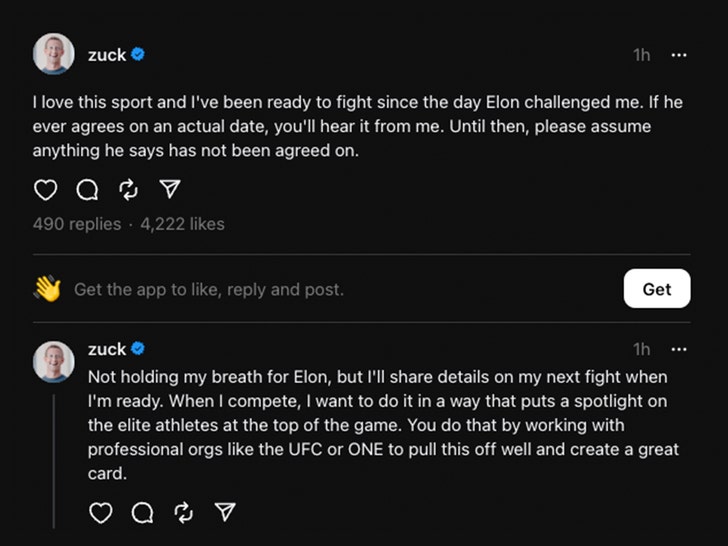 Zuck then said he's still training like a mad man for the potential bout, showing off a photo of him working in his backyard Octagon.
The two businessmen initially began the process of setting up a fight way back in June when Musk floated the idea of a cage match after it was revealed that Zuckerberg's Threads was in the works.
While the two sides clearly have a long way to go before anything is officially set, one thing is clear, Musk won't be able to fight any time soon because he needs minor shoulder surgery that will put him on the shelf for at least a few months.