Everyone is discussing Rihanna's bold style as she goes out in unzipped denim to show her pregnant belly. 
The soon to be mom of two appeared in a white crop top and very baggy unbuttoned jeans, and no one can pull that off except the one and only bad gal Riri.
Riri's boyfriend, A$AP Rocky also joined her, and rocked a casual look consisting of camouflage pants and dark brown patterned shirt.
A$AP and Rihanna welcomed their first baby, RZA Athelson Mayers  in May of 2022, and now, the pair are preparing for their second baby. It is reported that RZA's name was chosen in honor of producer RZA who is the leader of Wu-Tang Clan the American hip-hop collective formed in Staten Island in 1992.
Producer RZA's real name is Robert Fitzgerald Diggs, and Wu-Tang Clan are one of the most iconic rap groups of all time, both as a collective and as solo artists and producers.
It is worth mentioning that Rihanna's maternity outfits always catches the eyes, earlier this summer, Rihanna wowed a sheer dress layered over the tiniest sequin bikini.
On Mother's Day, Rihanna wore a silver mesh Miu Miu crop top and belted mini skirt, and added a sparkling Balenciaga mini bag, a choker necklace and strapless Christian Louboutin heels.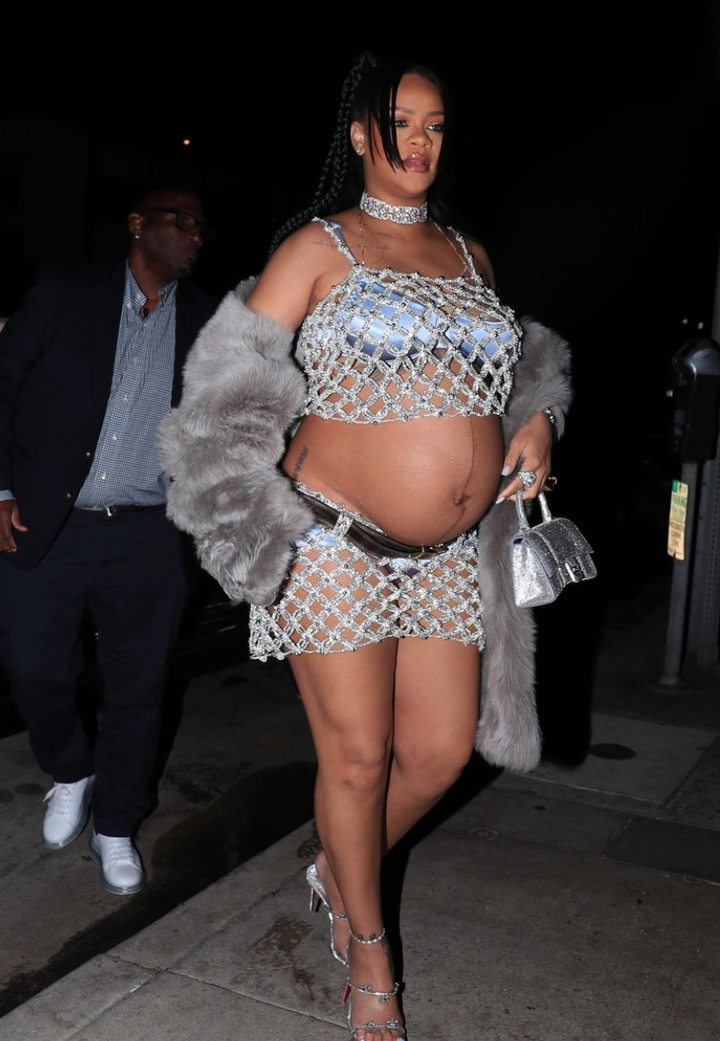 The singer makes sure that almost every time she goes out while pregnant to embrace the beauty of motherhood by wearing tiny tops to show off her growing pregnant belly.