Arsenal played their third game in the preseason yesterday when they travelled to face Manchester United at the MetLife Stadium on Saturday evening. The Red Devils overpowered Arsenal in the encounter as they comfortably defeated them 2-0 thanks to goals from Jadon Sancho and Bruno Fernandes. Despite the result, Manchester United and Arsenal still tested their abilities in a penalty shootout. The Red Devils also won 5-3 on penalties against the Gunners.
1, Kai Havertz Will Need Time To Readapt Playing As A Midfielder For Arsenal.
Kai Havertz was once more used in the middle of the park for Arsenal against Manchester United which affected his performance in the game. The German International couldn't influence Arsenal's performance from that area on the pitch as he struggled to contribute to the team's play both offensively and defensively. It seems the 24-year-old is already used to playing the centre-forward position and this recent change might take him a while to readapt to at Arsenal next season.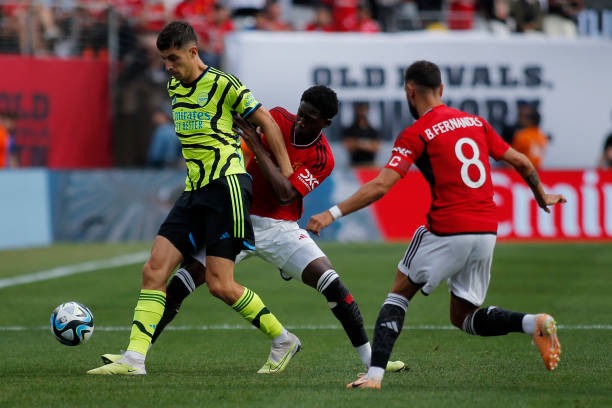 2, Arsenal Needs A Goalscoring Striker.
Arsenal came across a few goalscoring chances which could have been easily converted if they had genuine goalscoring striker in front of goal against Manchester United. Edward Nketiah missed some of these chances for the Gunners as he showed his average finishing once again in the encounter. The North Londoners urgently need to get a prolific striker who they can rely on to score goals for them constantly in matches next season.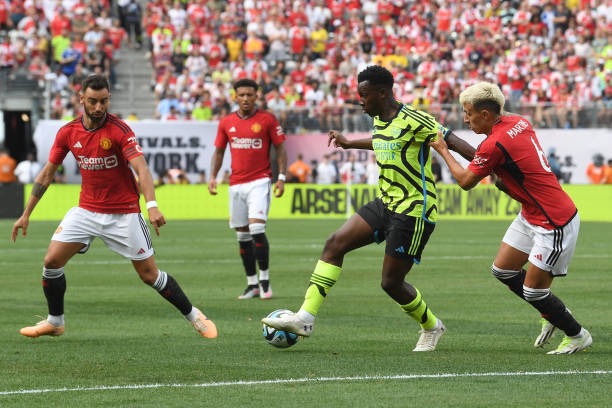 3, Kobbie Mainoo Is A Future Star At Man Utd.
Kobbie Mainoo started another game for Manchester United yesterday and still maintained his fine run of form against Arsenal. The English International might have played only in the first half of the game but his impact on Manchester United's performance was clearly seen. The 18-year-old controlled the middle of the park with great confidence for Manchester United and also orchestrated their first goal against the Gunners. I believe Kobbie Mainoo will be a future star at Man Utd if he is given more opportunities to prove himself.