Yoruba movie actress Yetunde Bakare recently took to her Instagram story to share her evolving perspective on marriage. In her post, she revealed that she no longer believes in the institution of marriage but still maintains a belief in love. Alongside this revelation, Yetunde Bakare also announced her upcoming birthday and expressed a feeling of being overwhelmed by the sudden influx of potential suitors that she has encountered.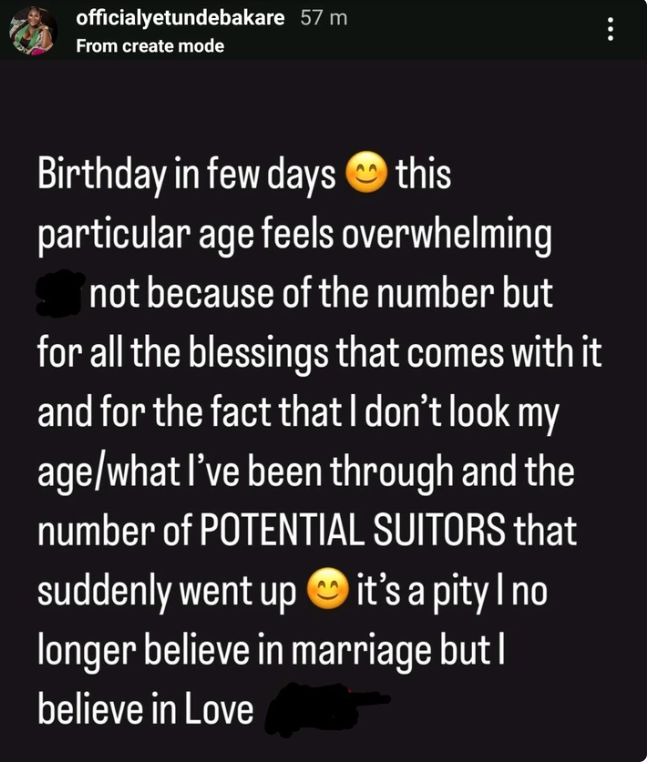 In her Instagram story, Yetunde Bakare expressed her regret about losing faith in the concept of marriage. However, she clarified that her belief in love has not wavered. The actress acknowledged that reaching a particular age brings about a mix of emotions, not necessarily because of the number itself, but due to the blessings and opportunities it brings. Yetunde Bakare made a conscious decision to not focus on her age, past experiences, or the sudden attention from potential suitors.
With her talent and rising fame in the entertainment industry, Yetunde Bakare has garnered a significant following on social media. Her candid and introspective post about her shifting perspective on marriage sparked curiosity and discussion among her fans and followers. By openly sharing her thoughts and feelings, Yetunde Bakare invited her audience to reflect on their own beliefs and experiences regarding love and marriage.