President Bola Tinubu has made another set of appointments as he officially resumes office.
Tinubu appointed Nosa Asemota as his official photographer and Adelani Opeyemi as the official photographer of Vice President Kashim Shettima.
Tolani wrote: "Congratulations to @nosasemota, The Official Photographer to @officialABAT 001, and @opeadelani, the Official Photographer to @KashimSM 002.
"I wish you both the best, God's guidance, protection, and favor in this new role!! Go kill it. God bless you both."
Bola Tinubu and Shettima were inaugurated on Monday at the Eagles Square in Abuja.
On Tuesday, Tinubu and Shettima officially resumed office.
In acknowledging the role Seyi Tinubu, the son of the President, played in his appointment, Nosa wrote on his Instagram.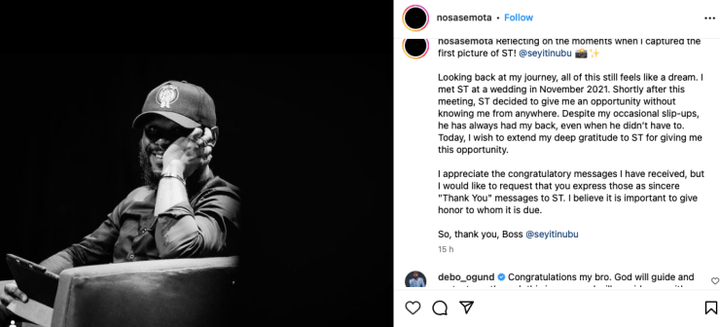 Reflecting on the moments when I captured the first picture of ST! @seyitinubu ??
Looking back at my journey, all of this still feels like a dream. I met ST at a wedding in November 2021. Shortly after this meeting, ST decided to give me an opportunity without knowing me from anywhere. Despite my occasional slip-ups, he has always had my back, even when he didn't have to. 
Today, I wish to extend my deep gratitude to ST for giving me this opportunity.
I appreciate the congratulatory messages I have received, but I would like to request that you express those as sincere "Thank You" messages to ST. I believe it is important to give honor to whom it is due. 
So, thank you, Boss @seyitinubu