The conclusion of the 2022/2023 Premier League campaign not only brought excitement and thrilling moments on the pitch but also unveiled the significant financial rewards for each participating club.
In this article, we will delve into the earnings of every Premier League club after the conclusion of the 22/23 campaign.
1. Manchester City: £170 Million – EPL Champions:
Manchester City claimed the coveted Premier League title this season and were duly rewarded with a mouthwatering prize money of £170 million.
2. Arsenal: £167.8 Million – Second-Highest Earners:
Despite not clinching the title, Arsenal emerged as the second-highest earners, receiving a significant share of the prize money amounting to £167.8 million. Their consistent performance and strong finish in the league played a crucial role in securing this impressive financial reward.
3. Manchester United: £165.5 Million – Third Place:
Manchester United, one of the most successful clubs in Premier League history, finished third in the 22/23 campaign. They walked away with a staggering £165.5 million in prize money, solidifying their financial position and showcasing their competitive edge.
Despite not lifting the trophy, their consistent performances and unwavering support base have propelled them to secure an impressive financial reward.
4. Newcastle United: £163.4 Million – Impressive Fourth Place:
Newcastle United had an outstanding campaign and secured a commendable fourth-place finish in the Premier League. As a result, they earned a notable £163.4 million in prize money. This financial windfall is a testament to the team's hard work, dedication, and ability to compete against some of the league's strongest clubs.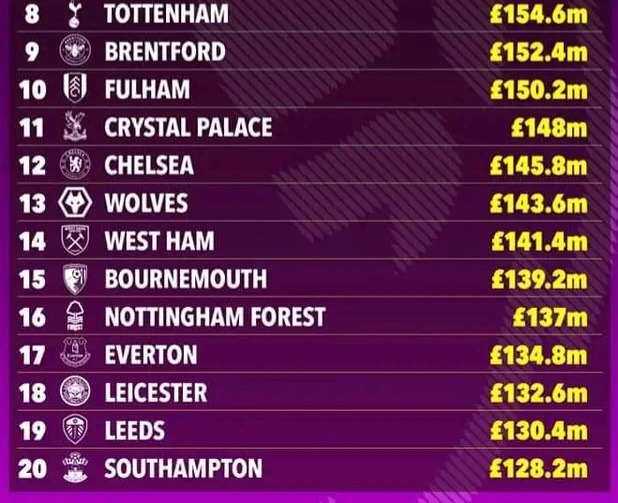 5. Liverpool: £161.2 Million – Underwhelming Season:
Liverpool, known for their recent success in domestic and international competitions, had a relatively underwhelming campaign in the 22/23 season. Despite this, they earned a respectable £161.2 million in prize money.
6. Brighton and Hove Albion: £159 Million – European Qualification:
Brighton and Hove Albion secured a place in European competition for the upcoming season, capping off their successful campaign. They earned £159 million in prize money, emphasizing the financial benefits that come with participating in continental competitions.
7. Aston Villa: £156.8 Million – European Qualification:
Aston Villa, another club that secured a European qualification spot, earned a commendable £156.8 million in prize money. Their successful campaign, which culminated in a top-six finish, not only brought them financial rewards but also provides an opportunity to compete on the continental stage.