In news published by Daily Trust Newspaper this morning, President Muhammadu Buhari is set to Inaugurate Dangote's refinery tomorrow.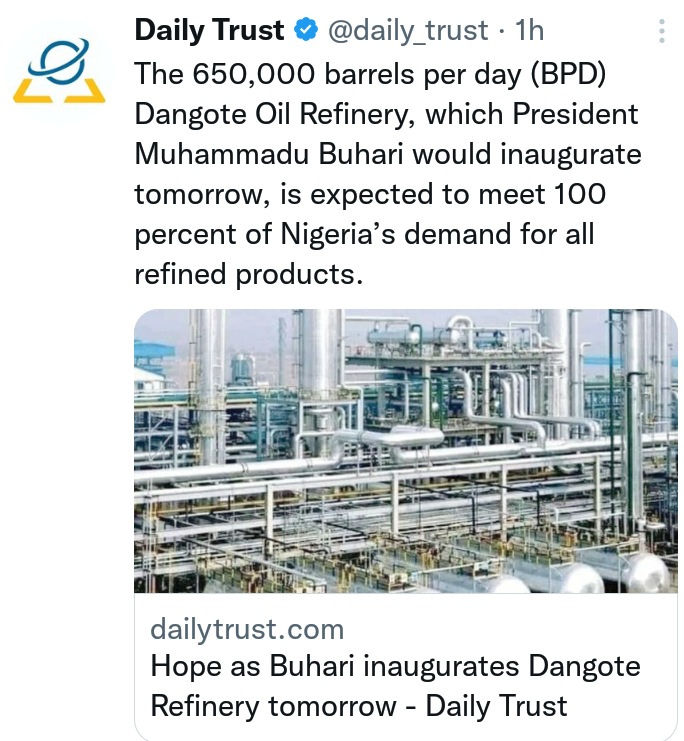 Therefore, a 650,000 barrels per day (BPD) from Dangote Oil Refinery is expected to meet 100 percent of Nigeria's demand for all refined products.
According to another source, the petroleum Products expected to be produced and refined in tonnes daily include diesel, dual purpose Kerosene, premium motor spirit (PMS), aviation jet fuel and dual-purpose among others.
Moreover, another source reported that the production of petroleum products will not be refined from the plant until later in the year, the completion of Africa's biggest oil refinery and the world's biggest single-train facility is projected to create a market for $21billion each year of Nigerian crude oil. This will be a good achievement in President Buhari's administration. The outgoing President will be proud of Dangote's refinery as it will be the largest refinery in Africa.
However, President Muhammadu Buhari will leave office on the 29 of this month. The President-elect Bola Tinubu will overtake Buhari after eight months years in office.
According to another story released by S&P Global Commodity Insights, the Dangote's new Refinery is anticipating the arrival of its first crude batch in June this year.