Prominent actress Funmi Awelewa has recently taken to social media to share an unusual piece of advice, urging individuals to engage in intimate activities(knacking) to enhance brain function.
While her advice may seem unconventional to some, Awelewa argued that there are some brain functions that stp working well due to lack of s#x.
She wrote, " In whatever you do…Abeg try to dry Knack well, E dry help the brain. Some brain no day function again due to lack of s#x. Thank You. #morilitalks"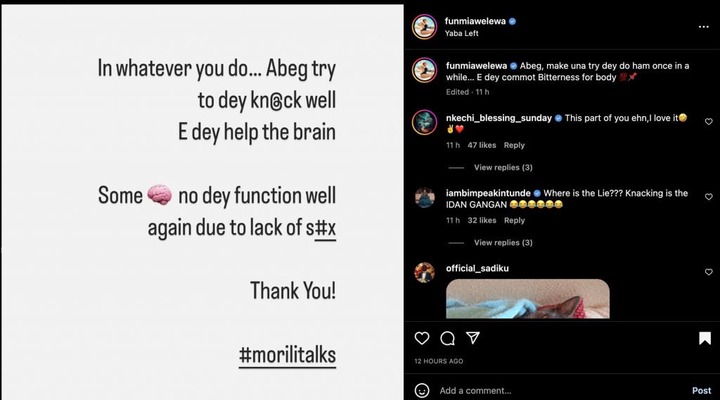 Many social media users engaged in spirited debates, citing various studies and theories to support or debunk her assertion.
See reactions below:
– So na wetting dey affect my Brain be this 😂make God send prick to me o🤲🏻
– Where's is the lie Abeg, whenever you see a lady nagging around or just angry unnecessary, abeg ask her when last did you have s*x😂😂😂
– Abeg if dem knack you well, appreciate dem by gifting them 😂😂😂😂 we sell beautiful and affordable customized gift items 🎁😍
– So, u people una dey hide update before nih and uno tell me, no wonder I sha dey c say two wire dey spark 4 my head sha 😢 thanks to morili's talk😊
– Na wetin Pesin wey them just dickmatize finish go talk be this 😂😂
– No wonder why my brain no too correct