former Lagos Gubernatorial candidate, Babatunde Gbadamosi took to his social media handles to react after BBC published a report that Labour Party's presidential aspirant, Peter Obi's votes were reduced by a wide margin in Rivers state.
A Twitter user identified as 'Jaypee' shared a screenshot of the report published by BBC as regards to the election results in River States, which reads this, "We added up the voting tally sheets from over 6,000 polling stations in Rivers State, where many of the opposition complainta were made. While the official result in this state gave a clear majority to Bola Tinubu, our tally suggested that Peter Obi had actually received most of the state by a wide margin".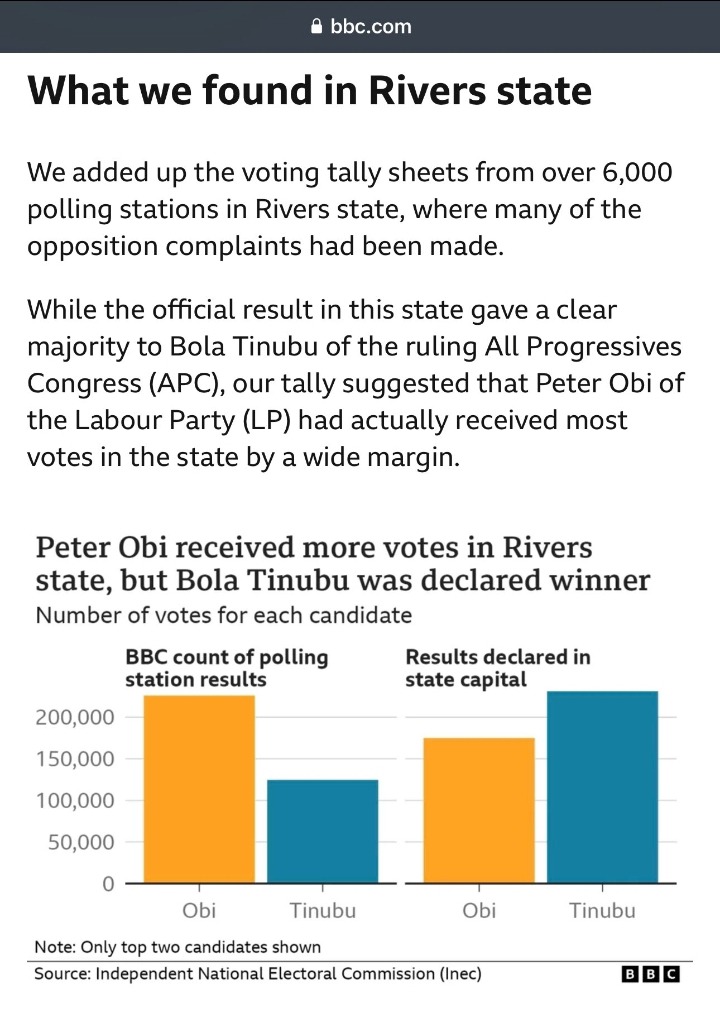 Photo Credit: Twitter
However, Gbadamosi while reacting, emphasized that if the election results for Lagos, Ogun and other states are critically examined, most of INEC officials will have to be jailed because several abnormalities might have committed by them.
"When the results of Lagos, Edo, Ogun, Oyo, Benue, Nassarawa, Kogi, Bauchi, Enugu, Niger, Ekiti, Osun, Imo, Ondo, Borno, Sokoto, Katsina, Osun, Taraba, Adamawa and some other states are properly scrutinised, many of the INEC officials in these states will have to be jailed"
Below is a screen capture of the post