Football management is without doubt one of the money-making and of course ruthless profession, that absolutely doesn't care about how big a manager you are before you're been shown the exit door once positive results on the pitch aren't forthcoming.
So been a phenomenal manager who is proving himself in terms of positive results on the pitch and also maintaining decorum in his team's dressing room, the greatest reward to offer such manager it's a mouthwatering contract or salary.
Simone Inzaghi – (Inter Milan, €620k)
Stepping into the void created by Conte's departure and inheriting a squad plagued with the departure of the club's two biggest players in the transfer market, is probably one of the biggest risk Inzaghi has taken in his managerial career when he decided to join Inter Milan.
Since securing the Nerazzuri's job having performed brilliantly at Lazio winning the Coppa Italia, two Supercoppa Italiana titles, before teaming up with the Nerazzuri to also replicate same achievements with the team.
Being one of the richest and highest paid managers in Europe, Inzaghi is reported to be pocketing €620k as his salary at Inter Milan.
Julian Nagelsmann – (Bayern Munich, €666k)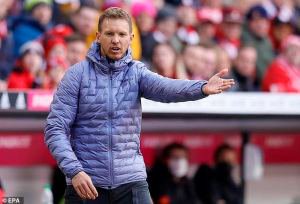 Despite earning the nickname 'German Mourinho' early on in his managerial career, Die Roten boss Nagelsmann, has consistently shown he's one of the finest in the league of managers in Europe.
As Die Roten's manager he has already won the Bundesliga in 2022 and still competing in all competitions this season both in the UEFA Champions League, Bundesliga and Cup competition.
Jose Mourinho – (AS Roma, €770k)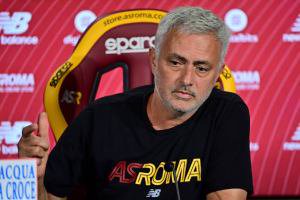 Not having the 'Special One' on this list will definitely not go well with the Portuguese fans, due to how famous, revered and successful he is as an elite manager in world football.
Following his short stint with Tottenham Hotspur the Portuguese manager made a surprising move to the Eternal city of Rome to manage one of the respected club in Italy with a gigantic salary.
As the manager of the team he joined in 2021-22 season, he's tutored the Giallorossi to the UEFA Europa Conference League final which they won against Dutch side Feyenoord as their first ever major European trophy.
Carlo Ancelotti – (Real Madrid, €910k)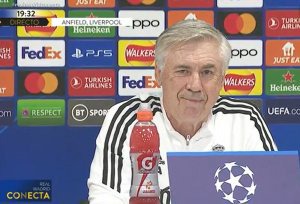 Carlo Ancelotti, arguably the most decorated manager in the history of football is the seventh richest and highest paid manager in Europe with a whopping €910k salary at Real Madrid.
He has won a total of four UEFA Champions League titles, two each with Los Blancos and Rossonerri among many other titles he's won throughout his illustrious managerial career.
With his Real Madrid side still in the 2022-23 UEFA Champions League having spanked Liverpool 5-2 away from home in the first leg, there's every possibility that Don Carlo and his boys could do the unthinkable in the Champions tournament this season.
Brenden Rodgers – (Leicester City, €983k)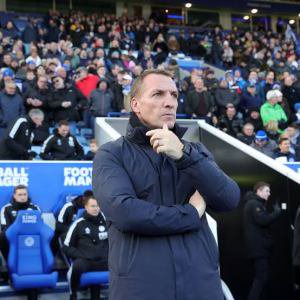 Though the Foxes are going through a torrid time in the league this season under their experience manager Rodgers, however, it needs to be said that the former Celtic boss is one of the richest and highest paid managers around.
Rodgers who is both an FA Cup and FA Community Shield winner with Leicester City in 2021 is reported to be earning a total of €983k as salary, an impressive figure that shows he's one of handsomely paid boss in world football.
While their campaign in the Premier League hasn't been encouraging in terms of on-field results and performance, the Foxes fans can only hope Rodgers turn around the fortune of the team before the end of the season.
Massimiliano Allegri – (Juventus, €1.17m)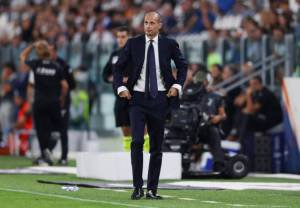 While there's a growing negativity towards Allegri and his tactical approach at Juventus, it must be said that the former AC Milan boss is unarguably one of the greatest manager ever to manage the Old Lady winning five Serie A titles, four Coppa Italia and reaching two Champions League finals.
The Old Lady are currently outside the top-four in the Seria A having been ducked 15-points by the Italian Football Federation (FIGC), due to financial irregularities and false accounting in relation to historic transfer dealings.
Despite all of the shenanigans going on at Juventus, Allegri still smiles to the bank with a mouthwatering €1.17m salary that ranks him among the richest and highest paid football bosses in Europe.
Antonio Conte – (Tottenham Hotspur, €1.49m)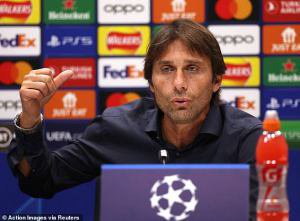 Both Tottenham Hotspur and Conte are going through a torrid time presently in terms of on-field results and health concerns, however, he's expected to be back on the touchline at home against AC Milan in UEFA Champions League.
To say Conte is one of the most successful managers in Europe is absolutely an understatement, because the former Inter Milan boss has done well for himself both as a player and manager winning 3 Seria A titles for the Bianconeri, a Premier League title with Chelsea and a Seria A title with Inter Milan.
With his current job at Tottenham Hotspur, Conte is rank as one of the handsomely paid bosses in Europe with huge paycheck of €1.49m
Jurgen Klopp – (Liverpool, €1.49m)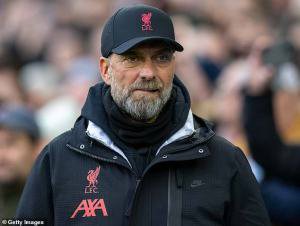 Jurgen Klopp's name will probably go down in the lore of Liverpool as arguably one of the best managers, ever to grace the historic Anfield Stadium having won both the Premier League and Champions League for the Kop.
The German tactician is reportedly earning around €1.49m, a whopping salary that put him in the same wavelength as other well-paid managers in Europe top-flight.
While Kloop's side have been maligned many times for playing poorly in recent time this season, it must be said that he's team is now back in the reckoning with a breathtaking performance against Manchester United.
Pep Guardiola – (Manchester City, €1.89m)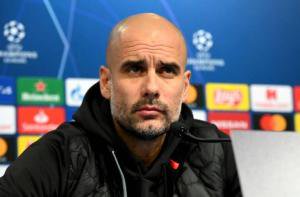 Pep Guardiola, arguably one of the greatest managers of all-time stands supreme as the second top-earning boss in Europe eclipsing the mega-bucks of his Premier League rivals.
The former Barcelona boss has guided the Citizens to four top-flight titles in the last five seasons, four League Cups and an FA Cup to firmly cement himself as one of the top coaches in the world of soccer.
While it's a known fact that he won the UEFA Champions League at Barcelona, however, the only trophy eluding him at City is the money-spinning UEFA club's competition which he's been striving to win for the Citizens since he joined.
Diego Simeone – (Atletico Madrid, €3.33m)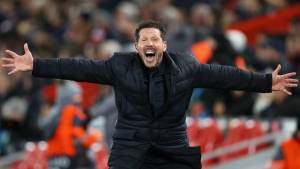 Unsurprisingly, having been one of the most consistent and tactically sound managers in Europe for many years, Los Rojiblancos manager Diego Simeone is the highest paid coach in the whole of European football.
'El Cholo' earns a monthly salary of €3.33m at the Wanda Metropolitano having been the longest-serving manager for Atletico Madrid joining the team a decade ago.
Simone may not have won the highly coveted UEFA Champions League trophy for Los Rojiblancos faithfuls, however, he has led them to two LaLiga titles, one Copa del Rey, one Supercopa de Espana, two Europa League titles and two European Super Cup.