After the conclusion of an intriguing play-offs for the Uefa Europa League round of 16 last night, the draw for the round of 16 that would determine the 8 teams that would go through to the quarterfinals has been carried out earlier today.
The likes of Manchester United, AS Roma, Juventus and all the other teams who had to fight so hard to book their places in the draw have now confirmed who they are going to face in the next round.
Full Europa League last 16 draw:
Union Berlin vs. Union St-Gilloise
Sevilla vs. Fenerbahçe
Juventus vs. Freiburg
Leverkusen vs. Ferencvárosi
Sporting vs. Arsenal
Man Utd vs. Real Betis
Roma vs. Real Sociedad
Shakhtar vs. Feyenoord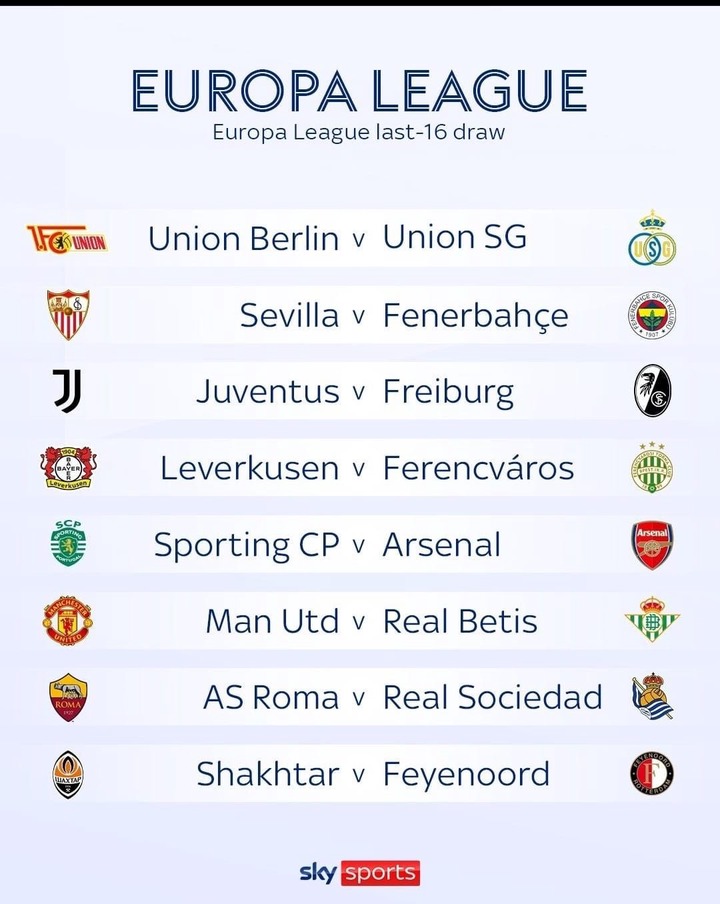 The 8 Favourite Teams To Qualify
It must be said that these fixtures are all tough matches and it wouldn't be easy for any of the teams to go through.
But analysing the ties based on team strength, form, squad, experience and history in the competition, the following teams should get through to the next round:
Union Berlin, Sevilla, Juventus, Leverkusen, Arsenal, Man Utd, Roma and Shakhtar