Rihanna set social media ablaze during her incredible halftime performance at Super Bowl 2023 when she revealed her baby bump.
The 34-year-old superstar is pregnant with her second child after welcoming a son with A$AP Rocky in May of last year.
The Fenty mogul made her triumphant return to music on Sunday when she rocked the star-studded State Farm Stadium in Glendale, Arizona in a brilliant red suit.
Revealing her belly to over 70,000 fans, Rihanna became the first pregnant woman to star in a halftime show.
Fans went wild across social media, with many celebrities, including her infamous ex-boyfriend Chris Brown, posting their well-wishes.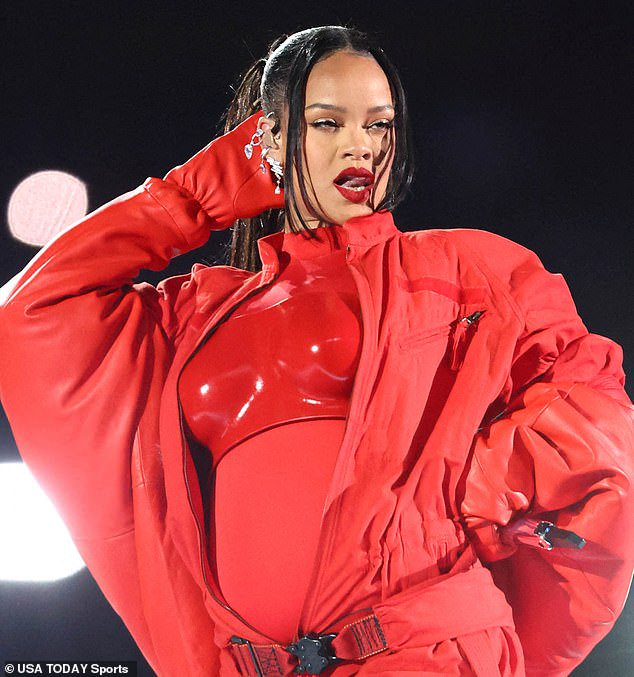 'Damn,' wrote comedian Michael Che. 'I see why they call him asap.'
Beyond the many humorous quips that flooded social media was a tidal wave of heartfelt congratulations for the Grammy-winning icon.
Perhaps the sweetest and most surprising message came from Rihanna's ex-boyfriend Chris Brown, who posted a simple message on his Instagram Story that read: 'GO GIRL.'
Brown set the words against a purple background and he included the emojis of a red heart and prayer hands.
One star in attendance was Cardi B, who cheered on Rihanna from her seat in the stands.
And Zendaya was left speechless at the hitmaker's reveal, as she posted an image to her Instagram Story that showed her looking stunned.
Halsey sent the Diamonds singer some love over Instagram when she posted a picture of an 'alter' set up for Rihanna on her mantlepiece.
'Damn,' wrote comedian Michael Che. 'I see why they call him asap'
Perhaps the sweetest and most surprising message came from Rihanna's ex-boyfriend Chris Brown, who posted a simple message on his Instagram Story that read: 'GO GIRL'