FIFA made a bold claim on Twitter tonight following Argentina's remarkable World Cup win over France. Argentina secured the title win after beating France 4-2 on my penalties to emerge as 2022 Champions. Kylian Mbappe and Lionel Messi stole the spotlight as both players got on the scoresheet to make the match very entertaining for viewers around the world.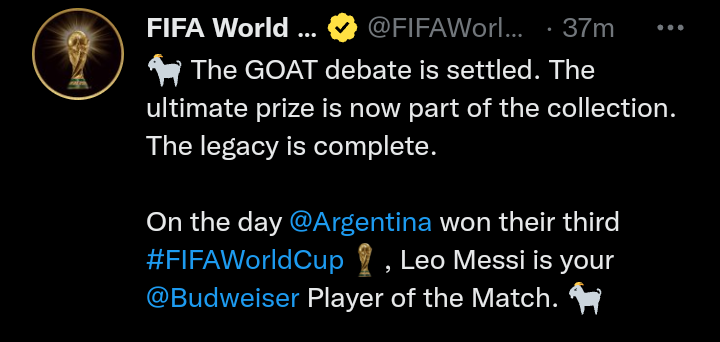 Lionel Messi finished as the player of the tournament alongside bagging the man of the match award ahead of his teammate, Kylian Mbappe. FIFA were quick to react on Messi's man of the match award as they claimed the GOAT debate has been settled following the 35 year-old win.
Many fans were displeased with FIFA claims on the debate being settled as they stated the football body is biased and picking favourites. Well, I don't see anything wrong with FIFA statement as they only said what many other fans have been saying tonight.
Well, let's see some reactions below ;