Social media influencer, Lauretta Onochie has reacted after the Federal government Approves the ASUU Faction, Congress of Nigerian University Academics CONUA, As Academic Union.
Recall that On Tuesday, the Federal Government approved the registration of the Congress of Nigerian University Academics (CONUA), a breakaway faction of the Academic Staff Union of Universities (ASUU). A trade union certificate has also been granted to the Nigerian Association of Medical and Dental Academics (NAMDA).
However, Lauretta Onochie while reacting to this said "Congratulations to Congress Of Universities Academics (CONUA). Lecturers in Nigeria now have an alternative union. The ASUU Jinx is broken.
@MBuhari did it
There will no more be ASUU strikes in Nigeria. They can no longer mortgage d destiny of our students.
Our students are free"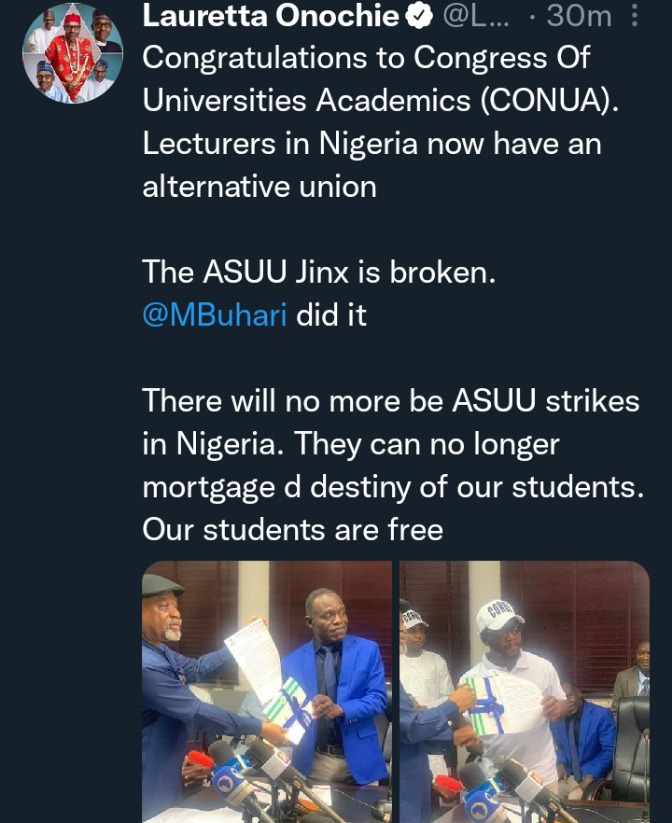 The university's chapter of ASUU, CONUA, was formed in 2018 after a leadership crisis. This crisis erupted in 2016 during the process of selecting a new vice-chancellor of the university.CONUA is currently waiting for the Nigerian government to officially register the organization since it was formed in 2018 and now has branches in almost 17 universities across the country.