Yesterday's fixtures in the UEFA Nations League have finally come to an end.
And among the winners of yesterday's games were Croatia, Netherlands, France, Belgium, Moldova, Andorra, Azerbaijan, Kazakhstan.
Among those who had to settle for a draw are Lithuania, Faroe Islands, Turkey and Luxembourg.
The losers of the day's fixtures are Denmark, Poland, Austria, Wales, Belarus, Slovakia, Latvia, Liechtenstein.
Here is the overview of all of the outcomes of yesterday's fixtures.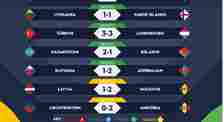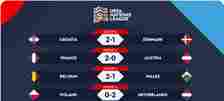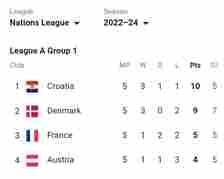 Here is the final standings of the competition after these games have been played with France securing their first win of the competition.


And following and assist from De Bruyne, Batshuayi, Giroud, this is how the competition's top assists currently stands with Batshuayi sharing the top spot with Mantalos, Bernardo Silva, Tadic, and Maehle.