America's Wealthiest Citizens See a $93 Billion Loss.
US inflation data stirred up markets and dented the fortunes of some of America's wealthiest citizens on Wednesday. According to Bloomberg Billionaires Index, Jeff Bezos saw the most significant loss of $9.8 billion, followed by Elon Musk with an $8.4 billion loss.
Other billionaires that saw sizable losses include Mark Zuckerberg, Larry Page, Sergey Brin, Steve Ballmer, Warren Buffett, and Bill Gates. The total loss among these individuals adds up to over $93 billion. Binance CEO Changpeng Zhao is down 3.9B after the crash.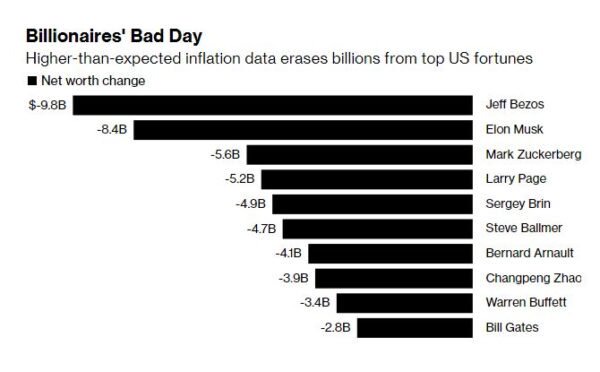 The sell-off in the stock market was broad-based, with the S&P 500 falling 4.4% and the tech-heavy Nasdaq 100 Index tumbling 5.5%. This marks the largest one-day loss for both indices since June 2020 and March 2020, respectively.
Investors are concerned that the higher-than-expected inflation data will cause the Federal Reserve to raise interest rates more aggressively, damaging economic growth.
The market rout follows a rough stretch for the US stock market, which has seen volatility return in recent weeks. In August, the same group of US billionaires lost $78 billion in a single day after Fed Chairman Jerome Powell gave them an eight-minute presentation.
Zuckerberg, chief executive officer of Meta Platforms Inc, and other prominent tech CEOs have seen their fortunes take a hit, including Binance CEO Changpeng Zhao, who is down 64% ($61B).
This recent market volatility is a reminder that, although the US stock market has been on a tear in recent months, there are still risks that can roil markets and cause losses for even the wealthiest investors.
Despite the losses, the world's 500 richest people are still far wealthier than they were at the start of the year. Their total net worth has fallen by about $1.2 trillion since January.