In-form Nigerian star Esther Onyenezide has been given the player of the match award for the second successive time, following her brilliant display for the Falconets in their remarkable 3-1 victory over Canada on Thursday morning.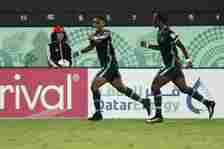 The 19 years old has been in an astonishing form since the beginning of the tournament and she was able to perform excellently for the team again on Thursday morning, as she scored two goals for the team.
The youngster started in Nigeria's attacking midfield alongside Deborah Idowu and Mercy Idoko and the trio were superb in the entertaining encounter.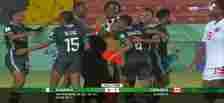 Two goals from Esther Onyenezide and a goal from Chioma Olise gave the Falconets of Nigeria a comfortable victory, while Kaila Novak scored the lone goal for Canada Under 20 Women's National team.
The brace against Canada Under 20 Women's National team means Esther Onyenezide has already scored 3 goals in three matches played and she is currently the 2nd highest goal scorer in the competition.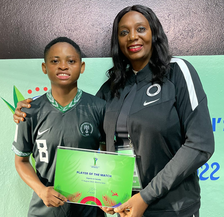 Esther was given the player of the match award in Falconets last game against South Korea after scoring the winning goal, and her brace against Canada has also helped her to win another award, and that means she has won it back to back.