The French international, Kylian Mbappé, has been in the news for sometimes now. The young player was expected to join Real Madrid earlier on, but he changed his mind and stayed put with PSG and the club reportedly made him feel as the most important player in the team.
He is now dictating for the club the players to sign and the players to sell, and this is not what a player who hopes to become the world's best one day should be doing.
Kylian Mbappé is presently having issue with Neymar Junior, and his relationship with Lionel Messi is also not cordial. The French international is making a big mistake. What Neymar has achieved in football, he is not close to achieving it. What Lionel Messi has done in football cannot be matched by anyone.
Kylian Mbappé is still a young player, and he should learn to respect the senior players in the game. He is making a mistake to think that he can do it alone for PSG, he forgot that a tree does not make a forest.
According to information, Kylian Mbappé has been given a penalty duty at PSG and before now Neymar Junior was responsible for penalties, if Kylian Mbappé was humble and respectful he would have insisted that Neymar continues with the penalty duty. Kylian Mbappé is dragging with Neymar Junior for penalty duty.
His big ego may affect his progress in football. In PSG's game last week, he stopped running because Vitinha didn't pass the ball to him in time. If he had kept on running, he would have been in the position to tap in that goal. With his behavior, PSG's players may all turn against him.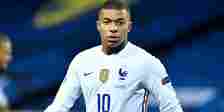 He is a great player and at the same time, he needs to stay humble.