A video which has gone viral on social media captures the emotional moment a Head Girl named Bashiru Wasilat was crying profusely during her graduation in Oyo State.
It was gathered that she broke down in tears while delivering her farewell speech because her parents were unable to attend the ceremony.
According to Twitter @Oluwakayodey_, who was the MC at the event, Wasilat is on the verge of stopping school because her parents are poor, which is also the main reason they were nowhere to be found on her graduation day.
The MC revealed that the school handled some of the finances including the graduation gown Wasilat was wearing.
The smart 11-year-old girl who is now a graduate of God's Light Group of Schools, Oyo town, Oyo state, took first position in class and passed every subject with flying colours.
@Oluwakayodey_ made an appeal to well-meaning persons to come to the girl's aid as she has no one to turn to.
He also uploaded a photo of the girl's impressive result sheet.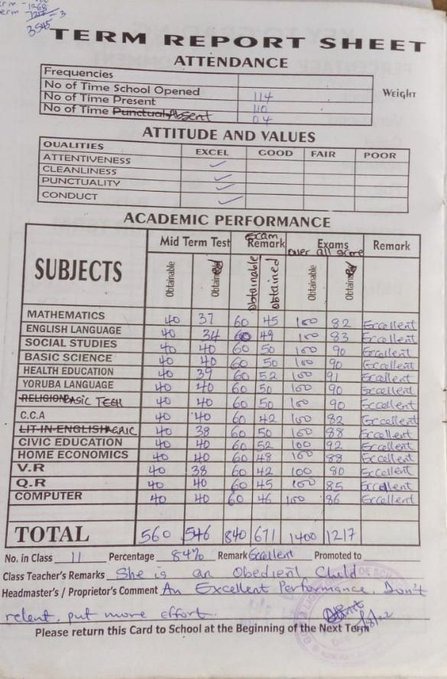 Sharing the video of Wasilat crying, he wrote: "Bashiru Wasilat, the Head Girl of God's Light Group of Schools, Oyo town is on the verge of dropping out. I was invited as Mc in the graduation ceremony when I heard about the story of the 11 years old girl.
Wasilat was weeping when she was giving her farewell speech. None of her parents showed up at the party due to lack of money. Her dad is jobless and her mom is a 'struggling' trader. It was the school that funded some of her things, including the graduation gown.
If God is directing you to help this little queen to further her education from Primary to Secondary and beyond, please send me a direct message so I can direct you to the parents and the proprietor. She took the first position in her class and all the subjects. She is such a brilliant girl.
We believe you can help this girl child dreams come through please 🙏🙏🙏 Here is a copy of Wasilat's result."
Watch the video below..
In reaction to the tweet, @IgebinaA wrote; But ASUU wants all funds to go to tertiary education… With a well funded Free public primary secondary education… People like this ll still have education… And if need for tertiary can now get scholarship too…
@mRobert; If at all i have anything to do with the parents is to arrest them straight…I know their might probably expecting another baby on the road..
@amicable_bliss; She will be great in our nation and do explore, I can see the future in her.
@_HREmpress; I don't know if she falls into the constituency of @akinalabi , but surely the Oyo state government can help … @RayToluAyo , please help tag Seyi Makinde.