A video circulating online shows Davido at the airport doing what he is known for, which is showing love and support to fans.
His plane just landed at the international airport from a trip and he met a staunch fan who had been waiting to receive him. The guy blocked his path as he was walking onto the car park.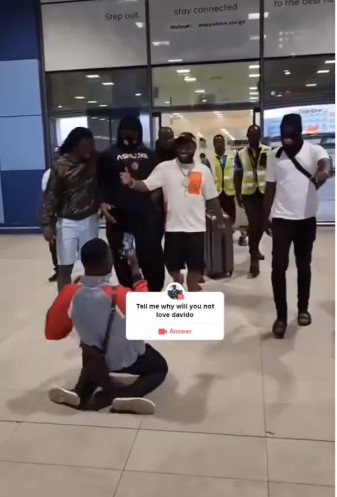 As soon as Davido and his entourage exited the lobby, the young man bent backwards to take a picture perfect photo of the singer.
On seeing him, the DMW boss quickly grabbed unto the loyal supporter and gave him a deep hug, making him really happy.
Watch the video HERE
In reaction, datboiybeedee; You can't hate David
lernii_; No try this 1 near wizkid, fire
elovina_bespokeandaccessories; I love David so much
shugaadaeze_; Chief priest left the group chat
buckygh; Let's be honest machala no go send your papa reach like this. 001 for a reason
khraftyblaq; If na una MACHALA that guy go collect woto woto from bouncer.