Since 2012/13 season, no Manager has purchased more players or made the most expenditure in the transfer market than Pep Guardiola. The Spanish Manager has managed three clubs in this time duration and have Purchased 50 players with 1.26 billion Euros, winning 18 titles in total. However, Allegri has Purchased the most players in this same time duration. He purchased 67 players for 929.57 million Euros and won 11 titles within this same period.
However, Pep Guardiola is not the only Manager who have spent over 1 billion Euros in the transfer market. Roma's current manager Jose Mourinho has spent 1.01 billion Euros in acquiring the services of 42 players. He won 7 titles in the process including the first UEFA Europa conference league. Guardiola and Allegro are not the only Managers who signed 50 or more players since 2012/13 season.
Other managers who signed more than 50 players includes Diego Simeone, Unai Emery and Antonio Conte. The Atletico Madrid manager signed 56 players for 942.20 million Euros and also won 7 titles in the same time duration. While Antonio Conte who have managed three clubs since 2012/13 season has spent 855.06 million Euros on 59 signings and have won seven titles in this time duration. However, Emery has won 11 titles since 2012/13 season and this is because he spent 763.50 million Euros on 54 players.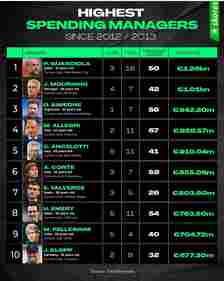 Other managers who made the top ten list includes Jurgen Klopp, Pellegrini, and E. Valverde. These four managers has spent over 650 million Euros in the transfer window and have also purchased over 30 players since 2012/13 season. Which of these managers have the best Achievement?