Ghana is honoured with extraordinary talent who bring us different kinds of entertainment,from music to movies. In this article we bring to you the top 5 richest female celebrities in Ghana.
Top 5 Richest Female Celebrities in Ghana.
5.Yvonne Nelson($900k)
Yvonne Nelson has been in the movie industry for about 22 years and has starred in over 100 movies.Some of her movies include Princess Tyra, Heart of men, House of Gold etc. She is now a successful movie producer.Yvonne Nelson has a net worth of $900,000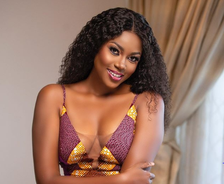 .
4.Nana Ama Mcbrown($1 million)
Nana Ama is best known to be the most successful actress in Ghana. Nana Ama first appeared in the movie industry in 2001 and she has dominated the movie industry to become the highest paid actress in Kumahood. She is the host of the United Showbizz show on UTV and a brand ambassador for Hisense. Nana Ama has a Net Worth of about $ 1 million.
3. Deloris Frimpong Manso($1.5 million)
She is popularly known as Delay one of the most celebrated TV personalities in Ghana. She becoming popular with her Delay show which she interviewed many celebrities in Ghana. She is currently the CEO of Maxgringo productions, Delay mackerel and sardines,etc. She has a net worth about $1.5 million.
2.Becca($6.2)million
Becca, one of the finest female celebrities in Ghana. She has collaborated with various Ghanaian and global musicians. Her brilliant performance globally has earned her lots of awards and nominations. Becca has a net worth of $6.2 million.
1.Joan Gyan
Joan Gyan is the wife of popular Ghanaian musician Keche Andrew. Joana is the Founder and CEO of Golden empire Legacy Limited. She has about 15 companies. She is Artisanal Miner, Licensed Gold Miner,Entrepreneur,Philanthropist etc.