Governor Samuel Orton has thrown more light on how the Governor of Delta State, Ifeanyi Okowaemerged as the Vice-Presidential candidate to Atiku Abubakar, which was against the wish of the majority of the party members. According to Ortom, 14 out of the 17-member committee that was set up, chose Governor Nyesom Wike to be the Vice-Presidential candidate to Atiku.
Governor Samuel Ortom disclosed this on Wednesday morning in a programme on Arise TV. The video of the programme was shared by the former Minister of Aviation, Mr. Femi Fani Kayode on his Instagram page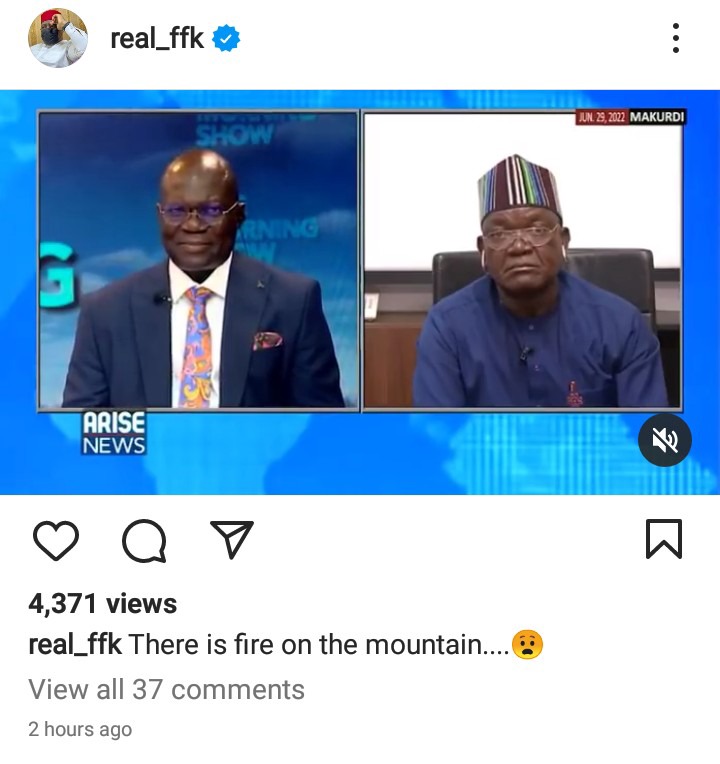 In the video, Ortom said he is praying and fasting and if God asks him to support Atiku Abubakar, he will support him. He said, after all, Atiku is a member of the PDP. He said he expects Atiku to reach out to Wike, who came second in the presidential primary and was denied the popular view of PDP members to be the Vice-Presidential candidate. 14 out of 17 members said Wike should be the Vice President, but Atiku Abubakar in his wisdom decided to pick Governor IfeanyiOkowa as his Vice, Ortom said
Samuel Ortom also said Governor Ifeanyi Okowa is a nice person and they are both friends. He, however, said because they are practicing democracy, when 14 out of 17 people chose Governor Wike, Atiku was supposed to explain his rationale for picking Okowa, and needs to reach out to Wike and his supporters. He said he was expecting Atiku to reach out to them so they can work together as a party.
He said for now he has gone into hibernation and he is praying and in the end, whatever God tells him, that he will surely do.
"But the bottom line for me is that I have gone into hibernation and I am praying and at the end, whatever God directs me, I can assure you that I will do it," Samuel Ortom said