Political analysts are doing what they know how to do best through permutations after about seven presidential aspirants stepped down for Asiwaju Bola Ahmed Tinubu and about two for Vice president Yemi Osinbajo. One of those analysts is a former aide to ex-president Goodluck Jonathan, Reno Omokri who took to his Facebook page to prophesize that Tinubu is winning the presidential primary election. Reno said,
"It is looking like it is a wrap for Bola Tinubu. His rant in Ogun seems to have paid off. With the very hostile reception given by Southwest APC delegates to Osinbajo earlier today, I am just wondering what Judas's life will be like after 2023? As for Rotimi Amaechi, he and Nasir El-Rufai deserve all that they will get today. Schemers. How Amaechi would think that any true Northerner would vote for a man who sold out his brother beats me. Even your buyers don't trust you! Looking like a sweet end to the #APCPrimaries"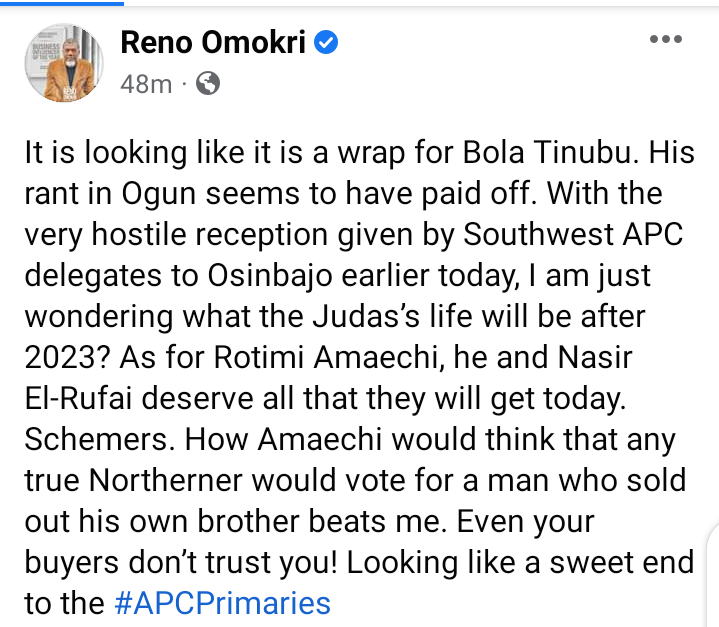 Apart from Reno, several other political analysts have predicted that Tinubu will win the election because of his political sagacity and the way he has put up a good fight in becoming the flag bearer of the party from the onset. Tinubu understands politics and he has shown the world that he can rule over Nigeria through his structures that cut across the country and his financial muscle.