I was talking about The Real Housewives of Lagos with my friend today and we started discussing a topic that was brought up on the show: veneers.
I had heard about veneers before but didn't really know how they worked. Did they remove one's teeth and then replace them with the veneers? Do they put the veneers on top of the old teeth? I didn't know and so because I didn't know the answer to my question, I turned it over to our collective teacher, Dr. Google.
Apparently veneers are put like an enamel or covering over the currently existing tooth. It is different from a filling, an implant, or a crown which are also different types of dental fixes. Here is a visual that may help you understand the differences: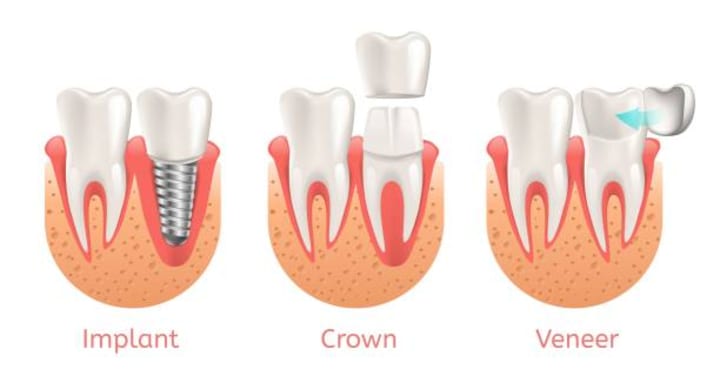 For some reason, I was/am fascinated by this and so I decided to do some research. Are there any other Nigerian celebrities who've gotten veneers or gotten any other work done on their teeth? As you can already imagine at this point, my research produced a list, and that brings us to where we are now.
Without further ado, here are 5 Nigerian Celebrities Who Have Worked On or Changed Their Teeth. Are you ready to see? Then let's go!
1. Iyabo Ojo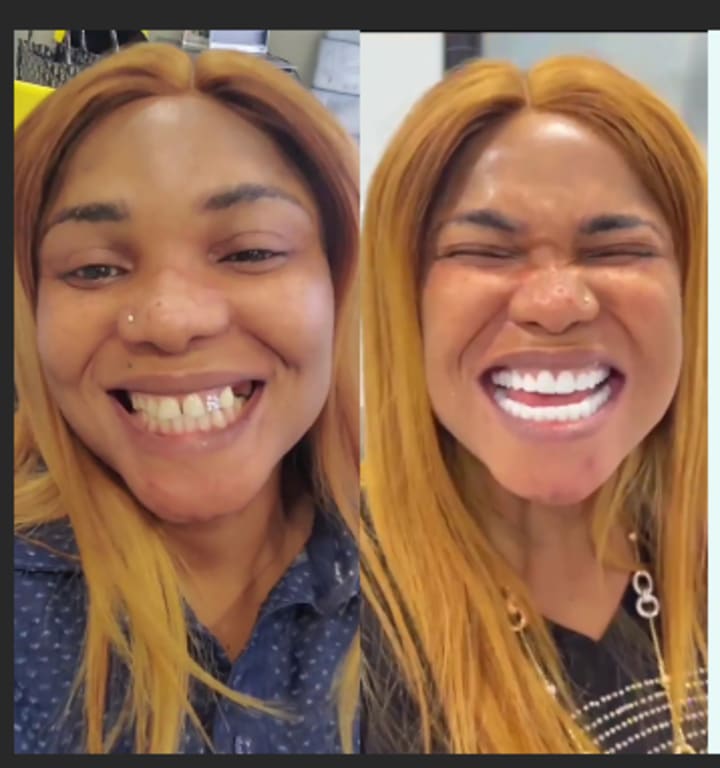 First up on the list is the person who made me aware of this at all, actress Iyabo Ojo. On the Real Housewives of Lagos, we watch her make the decision to get veneers and a couple of episodes later, she comes back with a brand new set of teeth. She also shared an Instagram video that showcases her transformation. She captioned the video: "I'm loving my new set of tooth 😁. Smiling all the way"
2. Davido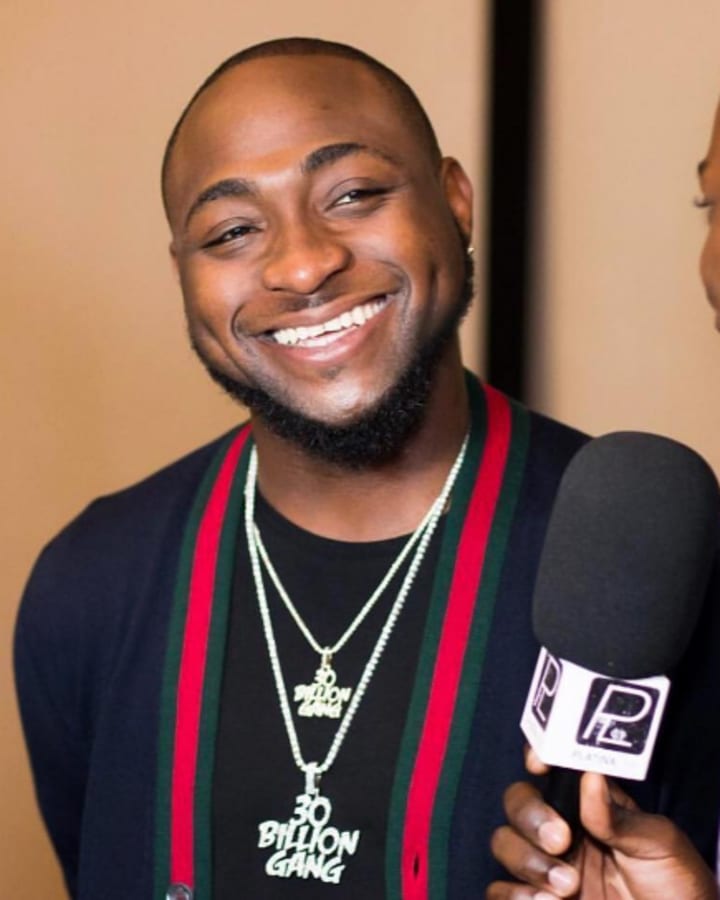 Star Nigerian musician Davido is another celebrity who got his teeth cosmetically enhanced. The singer took to his official Instagram to show off his teeth before his fixing and whitening procedure, and then showed off videos and pictures of the teeth after the procedure writing "I no close mouth again".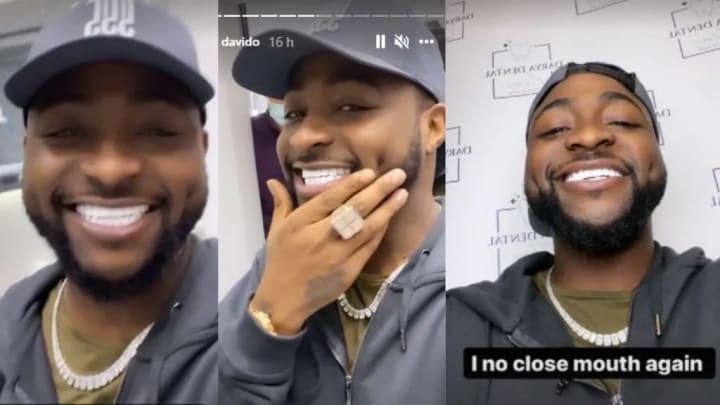 3. Ka3na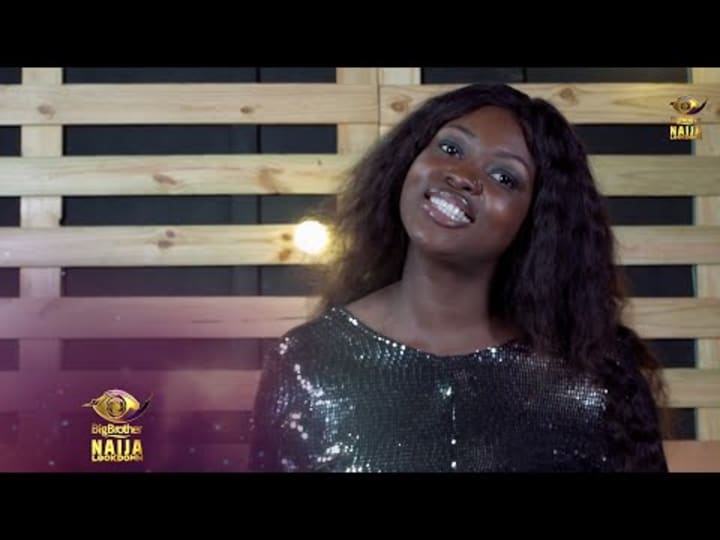 Another celebrity who showed off her new set of pearly whites on Instagram Live after her procedure is Big Brother Naija housemate, Ka3na. The reality star took to her Instagram Live to show off her new teeth telling fans "I'm going to destroy you guys with my smile. I'm going to destroy people with my smile. This is so cute. I just wanted to show you guys my new smile."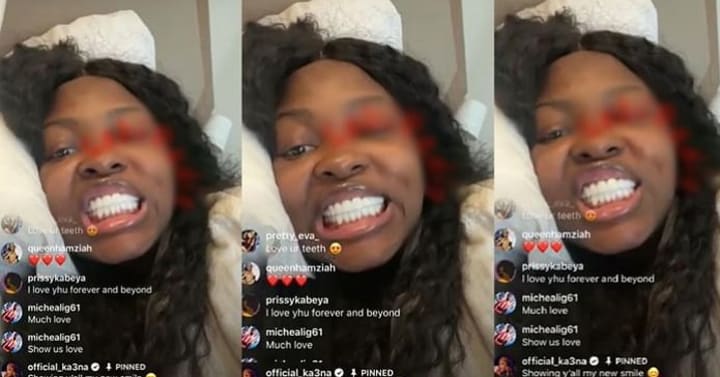 4. Toyin Lawani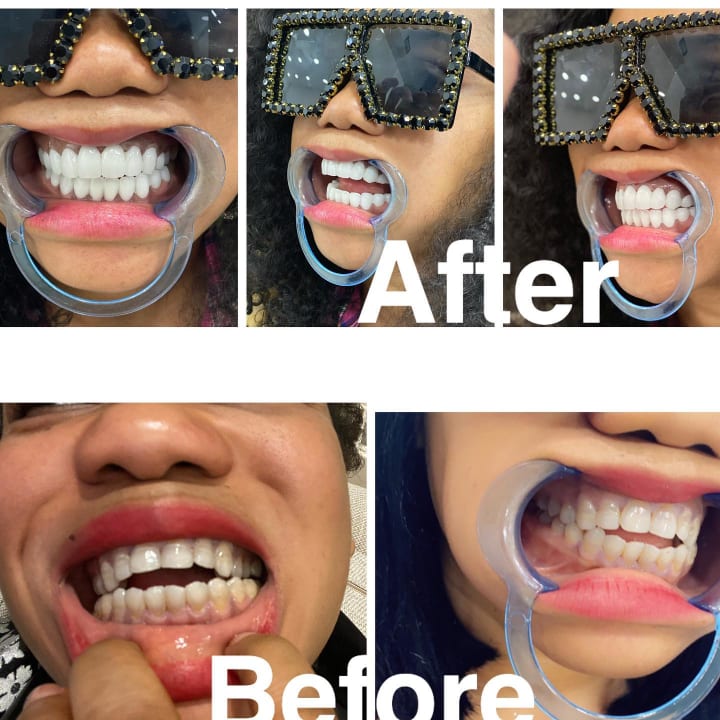 Another reality star and member of the Real Housewives of Lagos cast, Toyin Lawani, is another woman who got her teeth fixed. According to the celebrity stylist who shared the above before and after picture on her Instagram, she said:
This is the ist time I'm showing everyone what my teeth really looks like cause I hide them 🤦‍♀️

To everyone saying they love my formal dentition ,may God bless you with them , #Amen , and I still talk the way I talk so it's more sexier,we all have our insecurities, and this has always been one of mine , it even makes me camera shy cause I know I have a lisp, and the space makes it worse when I speak , atimes I spit unknowingly while speaking cause of the gap, I even hate watching myself speak on tv and it makes me run from some certain facial angles when taking pictures, glad I finally worked on it and got my Big smile back, I and my family hv had this tetracycline stains since childhood , I hv bleached it, used braces for a while , it didn't work for me and my space is from sucking two of my fingers when I was young 🤦‍♀️ I've been warning @lordmaine2 about it too, cause that boy can suck , 🤦‍♀️ was worried about losing my lisp for a long time , so didn't want to fix the teeth, but glad I still hv my lisp 💃💃💃
5. Niniola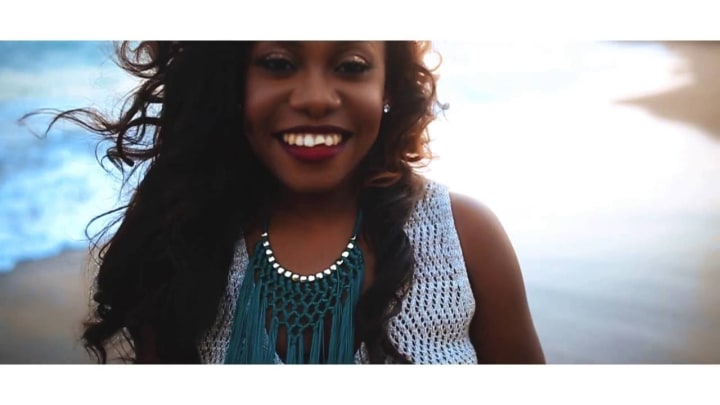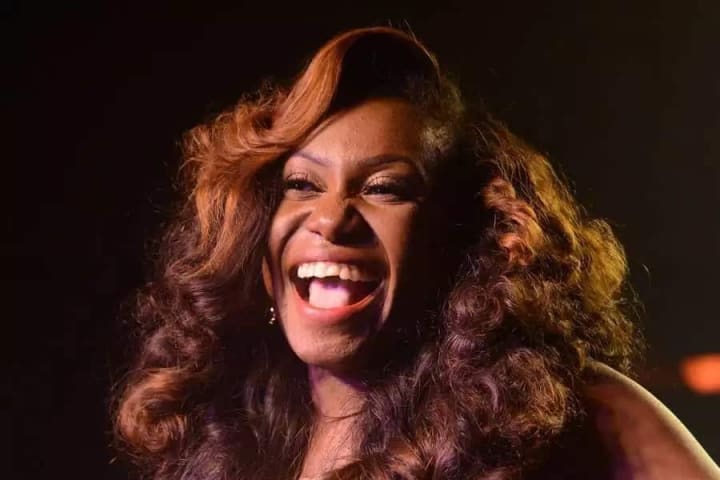 The most surprising one to me on this list because I knew something was different but couldn't quite place a finger on it is the new teeth on one of my favorite singers, Niniola.
Niniola has from the beginning of her career always had a chipped tooth. Even as her career continued to rise and people told her to change it, the chip was always there so much so that it sort of became one of her trademarks.
Recently, I saw a picture of her on my Instagram feed and I couldn't quite place my finger on what was different. I even watched her latest music video Shisha and could tell something was different, but couldn't place my finger on what. It was finally today while researching about veneers that I remembered her and went back to look. Voila, that is what was different. Niniola has after all these years covered up the chip in her tooth.