A few days ago, the All Progressives Congress (APC) pegged its presidential nomination form at N100 million. However, this decision, which was taken at the National Executive Meeting of the party, has in a few days, generated a lot of reactions from Nigerians, especially social media users.
As it seems, a lot of social media users bemoaned this development by noting that it was one of the reasons why politicians embezzled funds when they're eventually elected into office. Notwithstanding, some Nigerians have a quite different view, one of which was expressed by Zara Gift Onyinye and some reactions to her recent Facebook posts.
Photo Credit: Zara Onyinye via Facebook
Zara Gift Onyinye is an All Progressives Congress (APC) media personnel and staunch supporter of the present government in Nigeria, drawn from her Twitter profile.
Some hours ago, Zara took to her Facebook page to express how jokingly she sees the many reactions to APC's N100 million presidential nomination forms. In a series of posts on her Facebook handle, Zara described some Nigerian youths complaining about the price of the forms as jokers.
According to her, it was hypocrisy that these youths could sponsor protests and raise money for their favourite celebrities to take care of themselves, but they keep complaining about the price of forms. She wrote thus:
"Those who raised over 200m within 24hr for Davido &raised over 50m to buy Benz for Tacha of BBN are complaining over 100m APC form".
See her posts below: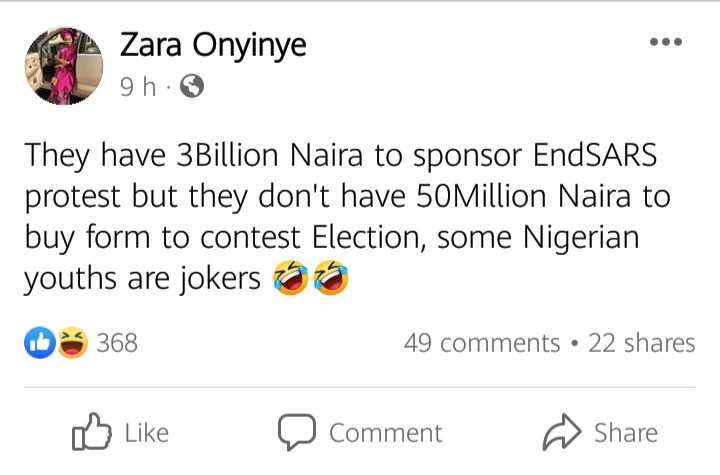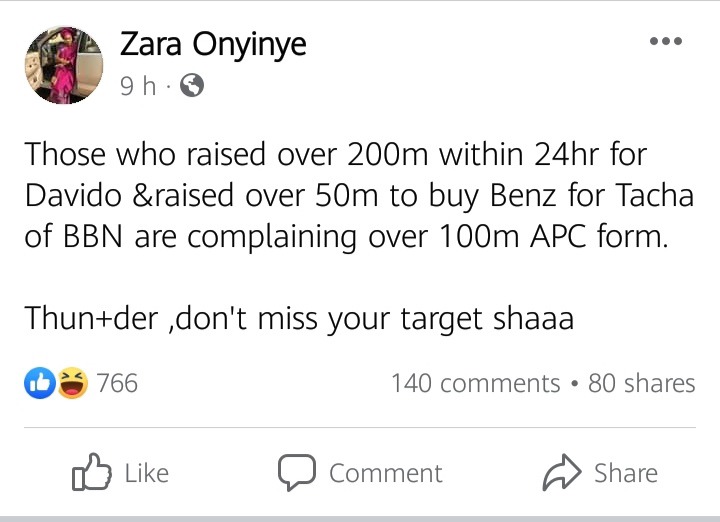 Credit: Zara Onyinye's Facebook Posts
However, in another post, Zara Onyinye described how people donated to support political campaigns in the 90s, not minding the glaring wealth of the aspirant. See below: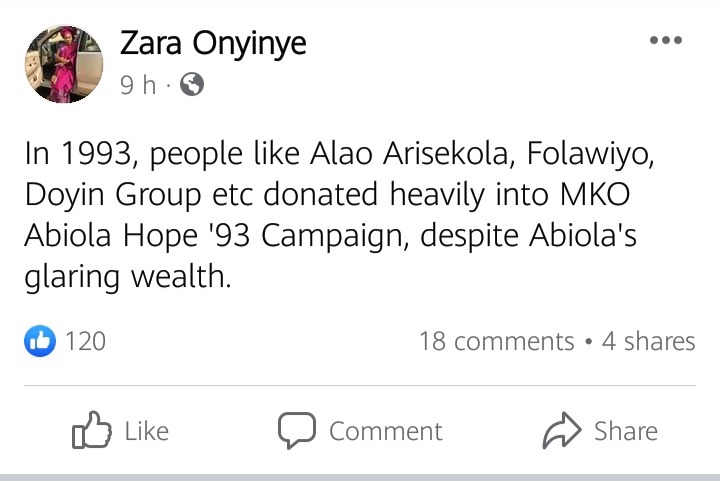 Nevertheless, Zara's post stirred up mixed reactions from fans. Obviously, while some defended their popular and favourite celebrities, some others agreed with her. In fact, some other persons concluded that there are other parties than the APC with lesser prices for nomination forms. Some reactions were captured below: