The UEFA Champions League has been an epitome of significant changes under the aegis of the UEFA president, Aleksander Ceferin who emerged as the seventh president of competition on the 4th, September, 2016.
The aforementioned stakeholder took charge as the president in 2016, and thenceforth, several changes had been witnessed, and are still being witnessed in the competition.
Amongst these changes are the implementation of Video Assistant Referee, VAR, and the cancellation of the well-known away goal policy in the UEFA Champions League.
Interestingly, another exclusive change is said to dawn on the system with which the UEFA Champions League is operated.
It's is noteworthy to the fact that the UEFA Champions League unlike the international club league competition usually starts in the group stage. The qualified team from the respective leagues are subjected to 8 groups, and each of these groups encompasses four members.
The top two teams of each groups are said to promote to the next stage of the competition which is the last 16 round, while the third position of each group will join the Europa League, and the last position will be disqualify from the competition.
But, a new style and system is said to be implemented in the up and coming seasons or precisely, according to UEFA in the 2024/25 Campaign.
The UEFA Champions League is said to implement the following changes. Mind you the group stage custom will be completely eradicated and another system will be fully optimize.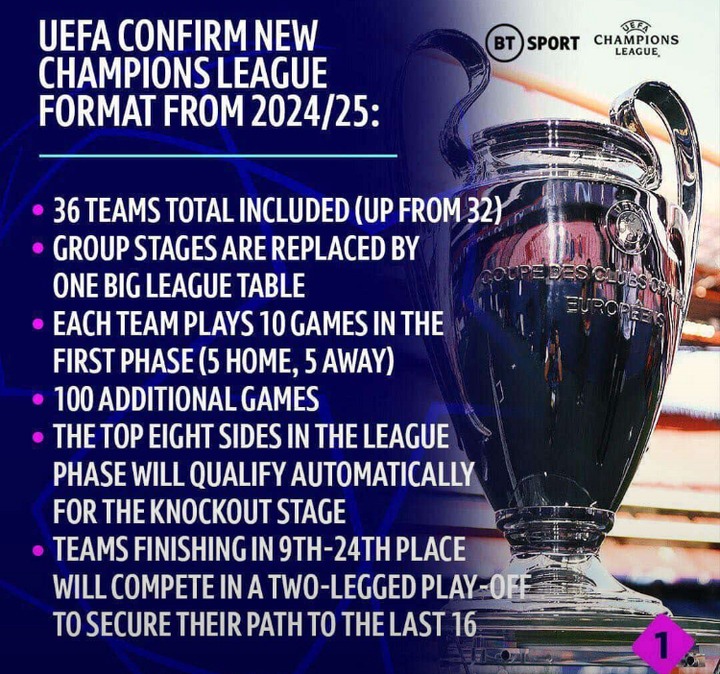 The number of competing clubs will fluctuate from 32 to 36. And abdication of the Group stage, and introduction of a League table.
The Group stage will be abandoned completely and will be replaced by a League table, the standing will encompasses 36 teams and each team will play 10 matches, 5 home and 5 away matches.
At the end of all matches, the top 8th teams in the UEFA champions League standing will promote automatically to the round of 16, while teams that finish in 9th to 24th position will compete in two legged play off to secure a chance in partaking in last round of 16. The remaining teams below the 24th position will automatically departs the league.
Therefore, 8 teams out of the the 24 teams will definitely join the top 8 teams that qualify automatically to the knock out stage at the round of 16.