Reactions have trailed the advice and statement made by Reno Omokri on what seems to be the reason why a man's side chicks do look prettier than his wife.
Many married men date single ladies, which they usually refer to as "side chicks." This is gradually becoming the norm in society as some people still believe that men are promiscuous by nature and having a side chick is not wrong for them. Although this belief is not universal, many men prefer to stick with only their wives.
However, one of the funniest things about men with side chicks is that they sometimes tend to like the side chicks more than their wives, as they appear to be prettier in their eyes. Many people are perplexed by married men with side chicks, wondering why they married their wives if they couldn't afford to be with just her.
Reno Omokri, the aide to former president Goodluck Jonathan, has given an insight into why it looks like side chicks are prettier than wives. According to Reno, side chicks only allowed men to see them when they wanted, and this could have made her rearrange herself properly and prepare herself and her house. This could cause the man to be infatuated with her special effects and not the reality of her.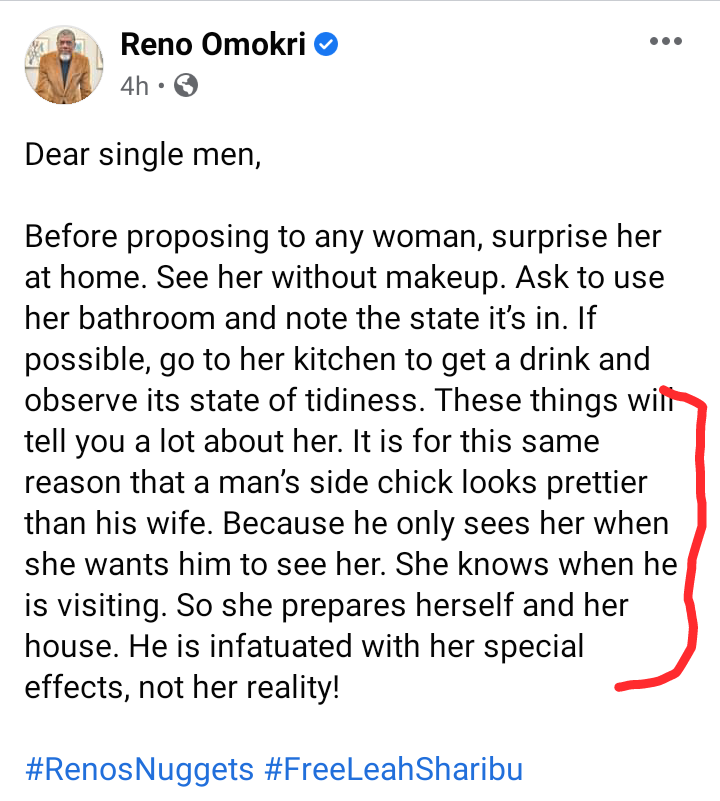 Reno however, noted that a guy should endeavour to pay a surprise visit to a lady at home and see her without makeup, use her bathroom, and go to her kitchen to see the state of her tidiness before proposing to her.
This insight given by Reno has gotten several reactions from his followers on social media. Many of the followers agreed with the statement and were inspired by his food for thought.