Nigerians on social media are currently reacting to rumors that Popular Nigerian Singer, Adekunle Gold cheated on his wife, Simi with another lady, while she was pregnant with their child, Adejare.
The rumors started off, when blogger, Gistlover alleged that Kunle cheated on his wife, Simi with a lady simply known as Teminikan.
According to the controversial blogger, AG has been having an affair with Teminikan while Simi was pregnant with their baby.
The blogger also alleged that the singer had made a video for his lover using her as a vixen. These revelations have sparked reactions from fans who expressed disbelieve and shock.
See post below;
"Stay away from AG baby, Simi doesn't joke with Kunle, and we Instagram in-laws too won't take it lightly with you, while Simi Carry belle,oga Dey knack you for set and you know he is married, avoid Ag baby before I enter your matter as Mummmmyyy Dey enter people matter, and you Ag baby, FACE FRONT, Baba Jare be warned don't give my baby girl breakfast chop, I come in peace,i intentionally put Aunty with the promo puna handle there, make them burn her page small,igi ewedu oni wo pawa o"
In another post, the blogger wrote;
'Let's laugh small. Naso one sing Mama so fine she got like six tattoos wey we think say na Chioma hom sing am for.Ashe na him side hen,this one sef sing jore use side chic do vixen. I tire for all these men wey their gbola no Dey gree rest. i come in peace,igi pawpaw oni wolu wa o'
See post below;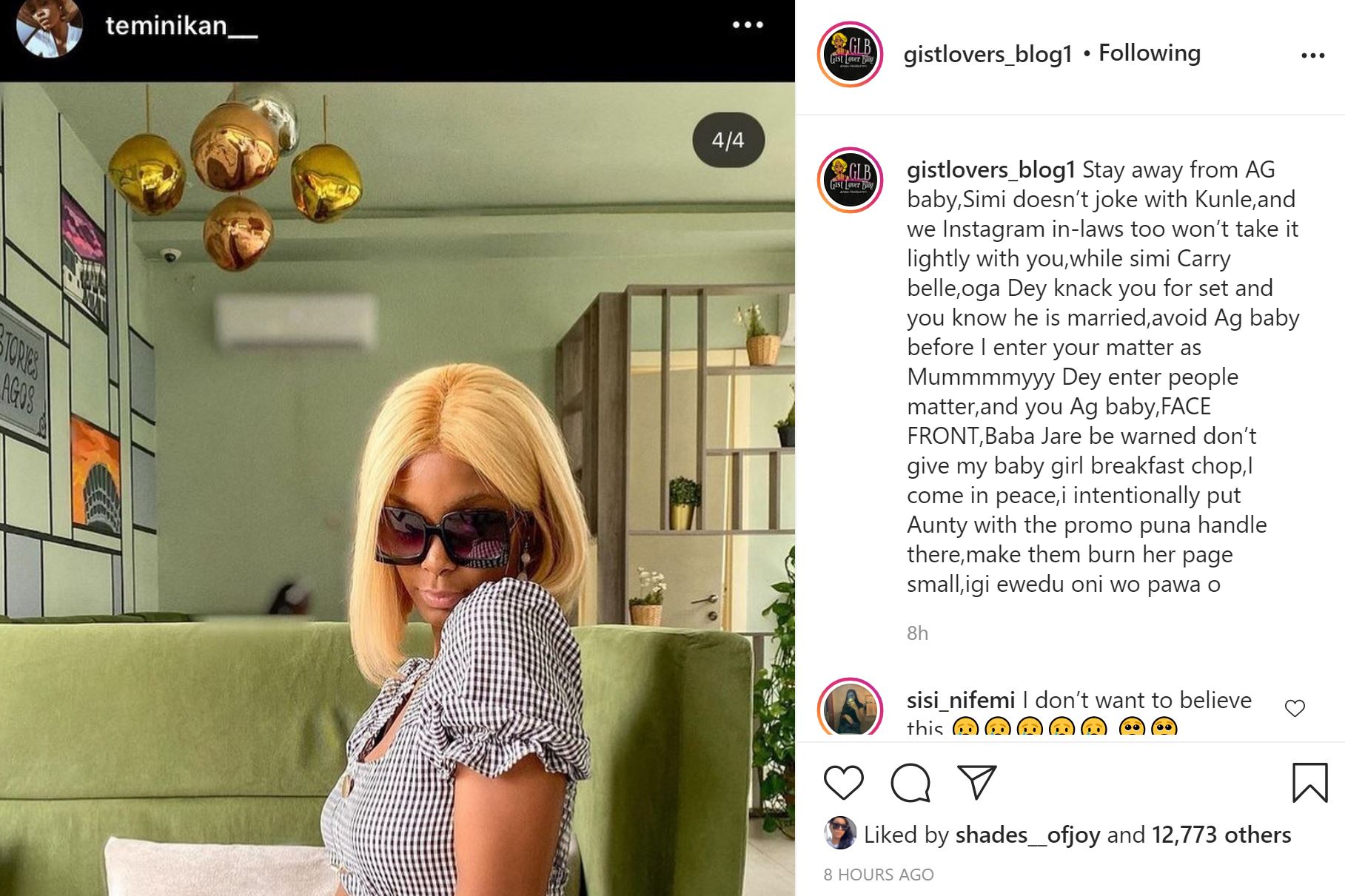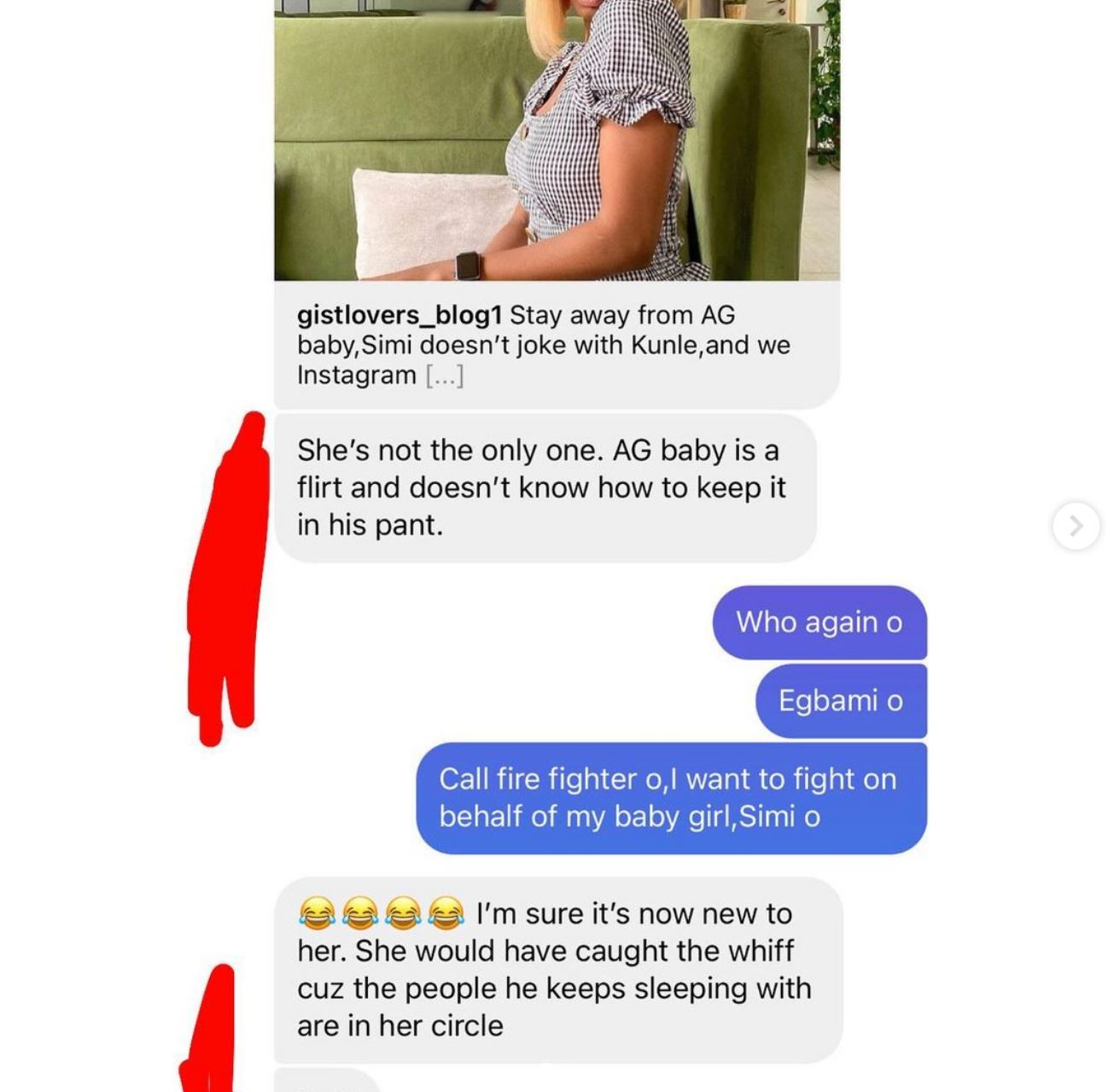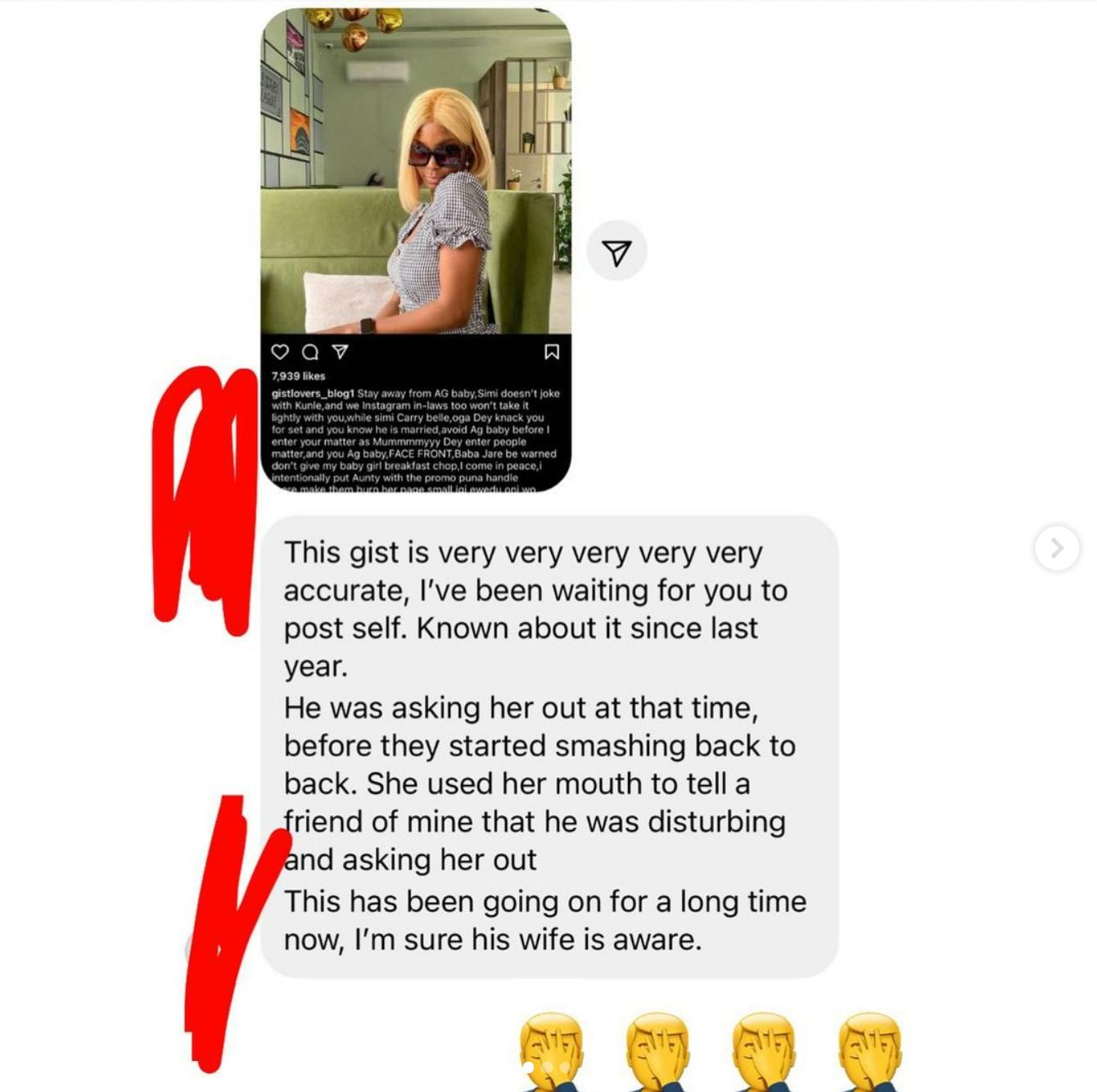 Below are some reactions;
@SMiTHiE___: I don't know your take on the matter and I don't really care, me I just want to remind you that AG baby is still your baby.Smiling face with heart-shaped eyes
@the_dynastyy: If Adekunle Gold carry your babe, just forget am cos AG baby steal your baby.
@BhadmusAkeem: If you are alleging that Adekunle Gold is cheating, you have to say it with your chest, not under any anonymity. Let AG Baby know those he's suing alongside Gistlover.
@Daddy_Nomso: When "I felt that" & "I've given up on love" Twitter sees this Fake Adekunle Gold Gist about cheating on Simi tomorrow morning its finished Man facepalming. Allow Simi & AG baby enjoy their marriage in Peace Thumbs up.
@Nmormiri: If you believe Adekunle Gold cheated on Simi. Then you can believe anything. The gist self is from a faceless blog. Make una let AG baby rest.
@Bayodeyforyou: Even if Adekunle Gold is cheating i won't still believe because the AG Baby wey i sabi no fit even kee cockroach. Adekunle Adigun Gold cheating? I can never believe.
@tifemi26: "AG baby is cheating? wow, menWoman facepalming" but you're tweeting this from the apartment that a married man got for you. Sago nbugo. Omo eran, tuletule.
@Jaynaijadotcom: Someone just bring up some shit about Adekunle Gold and gbam he is cheating. Werey niyin seh, Leave AG baby alone. No come scatter person marriage