A Boeing 737 passenger jet with 62 people onboard has gone missing after plummeting 10,000 feet following takeoff from Jakarta.
The Sriwijaya Air plane took off from Soekarno-Hatta international airport on Saturday at 1.56 pm for a 90-minute flight over the Java Sea between Jakarta and Pontianak in West Kalimantan – Indonesia's section of Borneo island, Indonesian Transportation Ministry spokesperson Adita Irawati said.
As of 2.40 pm, the spokesperson said the Boeing B737-500 plane lost contact with the control tower.
She said: 'A Sriwijaya (Air) plane from Jakarta to Pontianak (on Borneo island) with call sign SJY182 has lost contact.
'It last made contact at 2:40 pm (0740 GMT).'
Families of the passengers and crew are fearing the worse after rescuers looking for the jet say they have discovered suspected debris in the ocean north of the capital.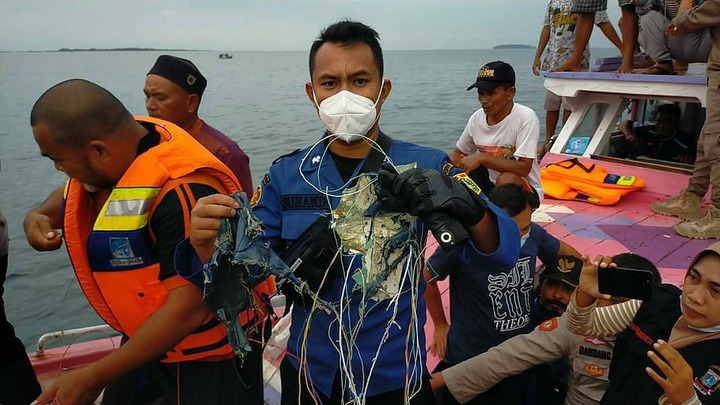 The 26-year-old plane was carrying 62 people including 56 passengers seven of whom are children and three are babies as well as two pilots and four cabin crew.
A spokesperson for Boeing said: 'We are aware of media reports from Jakarta, and are closely monitoring the situation. We are working to gather more information.'
A statement released by the airline confirmed that the plane was on an estimated 90-minute flight from Jakarta to Pontianak with 56 passengers and six crew members onboard.
A search and rescue operation is underway in coordination with the National Search and Rescue Agency and the National Transportation Safety Committee.
Authorities have also deployed a search vessel and paramedics are on hand to aid any survivors.