A video serving rounds on the internet has revealed that 82-year-old Oyo monarch, Oba Lamidi Adeyemi is a very vibrant and fit king.
In the viral video the Alaafin of Oyo was spotted training with a punching bag in what looks like an open gym.
The traditional ruler wore boxing gloves and punched the bags with every ounce of vibrancy as spectators watched and cheered him.
Several Nigerians who are amazed at the kings display of energy and strength have taken to social media to commend him. Meanwhile the monarch gave a few punches to the bag before calling it quits amid royal chants.
In reaction, a Twitter user, Jasper Aniet Louis wrote,
"The Alafin of Oyo has resumed boxing training in readiness for thugs that may want to attack the palace and steal his staff of office. So this old man still get strength like this….Thinking faceFlushed face. No wonder him dey marry small small girls".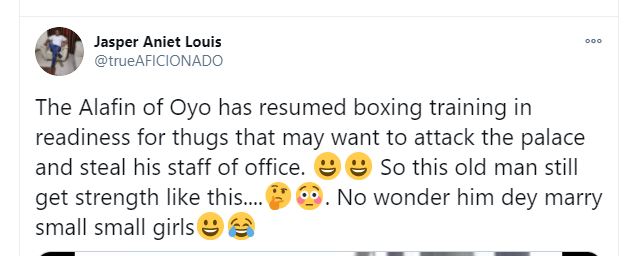 Watch video below,